This is an archived article and the information in the article may be outdated. Please look at the time stamp on the story to see when it was last updated.
HUNTSVILLE, Ala. -- Huntsville Police are investigating a fatal motorcycle wreck involving a teenager.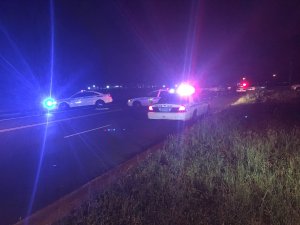 Madison County Deputy Coroner, Tyler Berryhill, confirms the victim is 16-year-old Tyrone Pointer Jr. of Madison. According to Madison City Schools, Pointer was a sophomore at Bob Jones High School.
The wreck happened around 9:45 Thursday night on Wall Triana Highway, just south of Dunlop Boulevard.
According to police, the 16-year-old was traveling south on Wall Triana on his motorcycle, when he hit an SUV turning into Jack's fast food restaurant.
The teenager died from the impact. The driver of the SUV was not injured.
WHNT News 19 has learned Pointer was a member of Bob Jones High School's track team. The track's head coach said right now he has a classroom full of  kids very emotional about Pointer passing. "He always did what he was suppose to do. He was always where he was suppose to be, and always doing what he was suppose to be doing," Jefferson explained.
Pointer's death has impacted the entire Madison City School District. "Anytime one of our kids get injured or even worse, loses their life it`s a horrible day for us," Madison City Schools Superintendent Robby Parker said.
Jefferson said the world lost a great soul and he's going to miss pointer's smile, kind words, and encouraging attitude. "One of the greatest compliments you can give a kid, is if you had a son you wish he would grow up to be like this kid right here. Tyrone Pointer what a great kid," Jefferson said.
Pointer's presence was a blessing for his coach and colleagues at Bob Jones High School. He's just simply going to be missed. "Just know he`s not gone, he`s still with us, and we love him and love his family," Jefferson said.
Family members say the teen just received the bike last Sunday, and the headlight of the motorcycle was not working.
Wall Triana was closed for three hours while police investigated.
Police say witnesses report the headlight on the motorcycle was not on or not functioning at the time of the accident.  They are still investigating the wreck.  But say no charges are expected to be filed against the driver of the SUV.