This is an archived article and the information in the article may be outdated. Please look at the time stamp on the story to see when it was last updated.
MADISON COUNTY, Ala. (WHNT) - Every day, runners and cyclists take to the streets either for exercise or fun, but none of them expect to be attacked while on the road.
WHNT News 19 is taking action to keep cyclists safe and dog owners informed.
While riding her bike through Gurley over the weekend, Jodi Bump was passing a house on the opposite side of the street, when, suddenly, a large dog knocked her to the ground.
"He rammed, pretty hard, into my back wheel from this direction and I just tipped immediately straight down to the ground and hit with my hip first and then my head, but I had a helmet on," said Bump.
The cyclist has been riding for more than six years.
She says she's lucky the dog ran away after that.
"I got off easy," said Bump.
She wound up with a hematoma on her hip, along with some minor scrapes and bruises.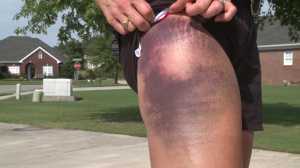 "I don't blame the dog at all," said Bump.
She and many other cyclists know that owners need to do more to help keep the public safe.
"That's where really the problem lies because the dogs see a cyclist or a runner or a car and they leave the private property and chase whatever it is and then potentially cause problems," said Bump.
In rural Madison County, pet owners are not required to put their dog on leash, but they are required to keep the dog under control.
They also are not allowed to let the dogs run free beyond their property.
Madison County also added special regulations for dangerous dogs.
It's likely Bump won't get back on her bike for another six weeks because of the attack, but when she does, she will be more cautious than ever.
"We are pet owners and drivers too, and we're not out there trying to get in your way," said Bump, "we are just trying to do something that we love."