This is an archived article and the information in the article may be outdated. Please look at the time stamp on the story to see when it was last updated.
HUNTSVILLE, Ala – Has your rent increased this year? If it has, you're not alone. According to a recent study from CoStar, Huntsville's rent prices for multi-family housing are rising at one of the fastest paces in the nation.
The study published says since January of this year, rent in Huntsville has gone up 6.5%. Only three cities in the country have risen at a higher rate, Las Vegas, Reno, and Phoenix.
There is a caveat to this, it only includes cities with 20,000 units or more.
Officials from Huntsville's Board of Realtors are not surprised by the study.
"The rental market is definitely higher priced than the sales market," Board treasurer, Issac Winkles said. Winkles also owns Alabama Property Management.
According to CoStar, what makes this feat even more impressive is that for several years the rent rates didn't change much. A graph in the study shows that in 2010, the rates went down nearly 3%. That percentage steadily increased till 2016.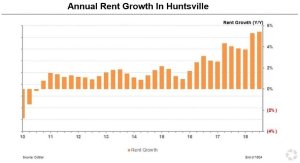 "We cannot keep up with the demand of renters that are moving into the area," Winkles said.
And the area's population is expected to continue to grow.
"Huntsville is supposed to be the largest city in Alabama in the next few years," Winkles pointed out.
There are many new apartments going up, which will continue to drive up the cost of rent.
"The cost of building is higher now, and they're going to go with the top market what the market is going to bring, and the market is going to bring a top dollar at this moment," he said.
So Winkle expects rent to rise for the foreseeable future.
While Huntsville's rent prices have risen 6.5%,  the downtown area has seen an even bigger spike.  Since January rent in downtown has risen 10%.
Higher Rent Increases in Downtown Huntsville
A check of apartment websites show one bedrooms in downtown going for anything from $1,150 to $1,900  a month. Downtown Huntsville, Inc officials say part of the rent increase is due to supply and demand because even though several new apartment buildings have been constructed over the past few years, the area needs more.
"Even with more options, our research shows us that there is a strong unmet demand for residential lofts in the downtown area even with the two new projects coming online," said Chad Emerson, Downtown Huntsville, Inc.'s President and CEO.
According to CoStar, there are a few factors driving up the rent. Office-using employment growth has gone up 20% from the city's pre-recession peak and more households in the 24 to 34 age group are earning $100,000 a year or more. The study says the 24-34 age group is the most important for high-end apartment demand.
"It's a really encouraging sign," he said.
Some may not like the sound of having to pay more for multi-family housing in Huntsville, but Emerson says it's a good thing.
"We found when rents are going down whether they're office rents, or residential rents or retail rents when they're going down, that usually means that the city is not strong. So, when they are going up that means there's increased demand which is a good thing for a downtown area like here," he said.
Call it the price of progress.