This is an archived article and the information in the article may be outdated. Please look at the time stamp on the story to see when it was last updated.
HUNTSVILLE, Ala. (WHNT) - With the help of the Space Hardware Club from the University of Alabama in Huntsville, about 90 students from Westlawn Middle, Discovery Middle and the Tennessee Valley Homeschool Association had a once in a lifetime interaction.
"I had the opportunity to talk to an astronaut on the International Space Station through radio," said Discovery Middle School eighth grader Jonathan Luchini.
"I asked two questions. My first question was what everyday task is harder in space," said another eighth grader, David Zuo.
The Space Hardware Club members used a ham radio to contact the ISS as it traveled directly over Huntsville. The heroes on board helped students learn first-hand about life in space.
"You know, when I get back to earth, for a few days it will take the body a while to adjust to having gravity again," said astronaut Tim Kopra.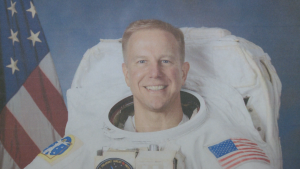 The reception was spotty, but strong enough for Kopra to be heard explaining the difference in viewing stars while in space versus from Earth. He also shared the humorous difficulty of keeping track of things in zero gravity.
The memorable experience is just another example of how students in the Tennessee Valley are closer to space.
"Students, here, have the opportunity to go to the U.S. Space and Rocket Center. They have the opportunity to talk to people who actually work for NASA," said Discovery Middle STEM teacher Julia West.
Now, they were encouraged from someone seeing Earth from light years away.
"Work really hard in school, set big goals for yourself, because they'll motivate you and excite you," said Kopra.
He and his team are expected to return to Earth in May.