This is an archived article and the information in the article may be outdated. Please look at the time stamp on the story to see when it was last updated.
HUNTSVILLE, Ala. - It's amazing the strength and love people find when faced with adversity.
One Huntsville family's life dramatically changed when their newborn son was diagnosed with a kidney disease.
23-month-old Samson Gamble has been a mighty fighter since day one.
His mother, Anna Gamble, told us, "It was a couple of days after he was born that we found out his kidney function was at 10%."
Shortly after his birth, Samson was diagnosed with Prune belly syndrome, a rare disease that affects his stomach and kidneys, among other things.  For nearly two years, his parents, Anna and Ben Gamble, have been on a mission. That mission was, "Getting him to grow, to be big enough for a kidney transplant without having dialysis," as Anna Gamble put it.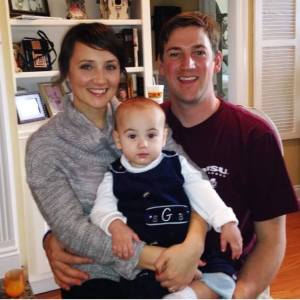 Ben Gamble said, "We really don't know anything different. Samson is our first child, so we think that this is kind of the norm." But their story is anything but normal. The Gambles have documented much of Samson's story on social media. The love poured out onto them and everywhere.  People wanted to know how they could help.
Support from friends and family came in many forms, from meals to financial support. But some wanted to go above and beyond.
"We had several people asking how do we see if we're a match," Anna Gamble said. Friends volunteered themselves to undergo testing to see if one of them was a match for a kidney donation. Incredibly, one of those friends was a positive match for Samson.
"I feel like we have the best friends in the world," Ben Gamble said.
Doctors cleared their friend, Katie Neporadny, for the kidney-donation surgery in January. As to why someone would sacrifice so much for someone they aren't even related to, Anna Gamble told us, "She felt helpless reading everything and when she found out that there was something she could might be able to do, she just wholeheartedly moved forward with it.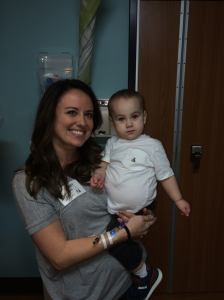 "I am so inspired by her, that she would literally give of her body to give my son a quality of life.  And to make sure that, you know, he has everything he needs and we are not always in a critical position," Anna Gamble said.
Samson doesn't yet understand the gift of life Neporandy is giving to him, but already, little Samson is inspiring others by stealing the focus from the disease and turning it to hope.
"I could not think of a more beautiful way to do it," Anna Gamble said. "Truthfully, even if you don't have a child who has special needs, you don't know what's going to happen tomorrow. So you just have to kind of say, 'this is the way God made him,' and we trusted that. We trusted that every step along the way was part of Samson's plan that God made for him."
Ben Gamble added, "Once something like this happens it's hard to do it on your own. We have to lean on God for support and we prayed to Him that He will take care of our son because there is only so much we can do for him."
Samson and Katie will undergo the transplant surgery Thursday, which will take place at UAB and Children's Hospital in Birmingham.
The life of a kidney transplant is typically 18 years, so Samson will continue to live with his disease.
The Children's Organ Transplant Association (COTA) anticipates the transplant-related costs will be in the range of $40,000. If you would like to learn more about Samson's journey or make a donation toward his medical bills, you can view his COTA page by clicking here.
*Update: Anna Gamble told us the surgery went well. Both Samson and Katie are in recovery and both are expected to fully recover. Samson's new kidney is functioning normally.