This is an archived article and the information in the article may be outdated. Please look at the time stamp on the story to see when it was last updated.
HUNTSVILLE, Ala. (WHNT) — Current Huntsville School Board president David Blair was handed a big defeat in the GOP primary for State Senate District Seven seat Tuesday night.
But the winner, incumbent Paul Sanford, says he doesn't believe Blair's position on the school had anything to do with his opponent losing.
Blair's campaign emailed our newsroom Tuesday afternoon accusing Sanford of election-day shenanigans.  The email alleges Sanford payed black voters to hand out marked ballots outside of several northwest Huntsville precincts. The sample ballots have Sanford's name circled as the candidate to choose in the Senate District 7 race.
Those same neighborhoods are home to a large majority of the opponents of the Huntsville School District's plan for rezoning who have claimed racial inequality.
Although the tactic is not illegal, Blair said a GOP candidate should not use money to try to influence Democrats cross over and vote in the Republican primary.
"If they cross over they cross over, but you shouldn't be actively spending money at a distinctly Democratic poll," Blair told our news partners at AL.com Tuesday. "It's the first time I've seen this in a primary."
Sanford defended his campaign practices Wednesday, telling WHNT the same group of black voters handed out marked sample ballots for him during the 2010 election, when he beat former Democratic state Sen. Jeff Enfinger.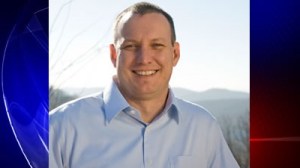 Sanford says local education issues – including the ongoing dispute between the Huntsville City School System and the Department of Justice over rezoning plans – was not something voters in either north or southern parts of the city told him they were concerned about.
"They care about jobs and the economy, they are happy with the direction we are headed and the job I have done so far," Sanford said. "Their votes for me again this time around are proof of that," Sanford says.
Late Wednesday evening Blair campaign spokesman David Driscoll sent us a statement regarding our request for an on camera interview with Blair.
"This was not a referendum on David Blair's tenure on the board. Remember  just over two years ago Huntsville City Schools were $20 million in debt and now they have over $30 million in reserve. The HCS is in the best shape in history while spending over $200 million building new schools.  The DOJ vs HCS is a big issue in north Huntsville and Sanford knew it."
Blair has the option of seeking re-election to his city school board seat, but he told AL.com he's inclined to walk away when his term ends this fall.
Sanford will face Democrat Mitchell Howie  in the November general election as he seeks his second full term in office.
The District 7 Senate seat covers most of Huntsville  plus the Hazel Green, Meridianville and Moores Mill areas.
(Our news partners The Huntsville Times/AL.com contributed content to this report)