This is an archived article and the information in the article may be outdated. Please look at the time stamp on the story to see when it was last updated.
HUNTSVILLE, Ala. -- Not sure how to prevent your child from being glued to a screen this spring break and summer vacation? Arts Huntsville has you covered!
The Spring Into Summer Activities Fair returns Saturday, February 24 from 10:00 a.m. – 1:00 p.m. at the U.S. Space & Rocket Center's Davidson Center. The event is free to the public and will highlight camps, workshops, and classes in art, music, dance, theater, science, history and more.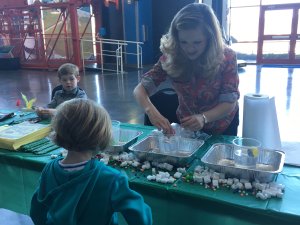 The fair will also feature hands-on activities and door prizes. The Spring Into Summer Activities Fair offers an excellent opportunity to learn more about educational offerings from local arts and cultural organizations.
Participating organizations include:
Alabama Youth Ballet Theatre
Alexander's Martial Arts
Ars Nova School of the Arts
Artis Studio
Burritt on the Mountain
Colors Fine Arts Center, Inc.
Designbyhart Pottery Studio
Fantasy Playhouse Children's Theater & Academy
Huntsville Ballet School
Huntsville Botanical Garden
Huntsville Community Drumline
Huntsville Ice Complex
Huntsville Museum of Art
Huntsville STEAM Works
Huntsville Youth Orchestra
Huntsville/Madison Co. Convention & Visitors Bureau
Madison Academy
Pine Ridge Day Camp & Equestrian Center
Randolph School
Riverview Camp for Girls
Rocket City Martial Arts, LLC
Spirited Art
St. John Paul II Catholic High School
The Country Day School
U.S. Space & Rocket Center
Valley View Ranch Equestrian Camp
Webster Martial Arts Academy
YMCA Camp Cha-La-Kee