This is an archived article and the information in the article may be outdated. Please look at the time stamp on the story to see when it was last updated.
HUNTSVILLE, Ala. - Huntsville Hospital for Women and Children received a special donation Friday to benefit the children they serve.
ADTRAN, a local communications and networking company, provided more than $8000 to bring Gamers Outreach Karts (GO Karts) to the hospital through the Huntsville Hospital Foundation. ADTRAN's employee donation program, Team ADTRAN, was the vehicle for this donation.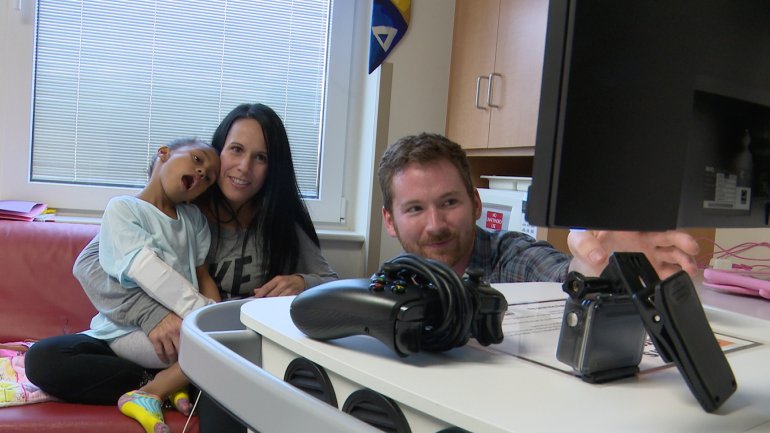 GO Karts are specially designed carts with gaming consoles mounted on them, meant to bring entertainment and recreation to children in the pediatric unit. The Karts are equipped with Xbox and/or Playstations and game controllers. They sit on rolling carts that healthcare professionals can raise or lower to comfortably rest at a child's bedside.
Gamers Outreach Foundation founder, Zach Wigal, came to Huntsville Hospital for the kiosks' delivery Friday.
Wigal said when he came up with this idea, with his gamer friends while they were in high school, he had no idea the need that exists for this kind of thing in hospitals. After volunteering at their local hospital, they realized there were specific ways games could help children during their stay.
Certified Child Life Specialist, Stefani Williams, said this can help area children who are hospitalized in isolation, or otherwise confined to their beds.
"It allows us to bring play to the children, and that just really helps them cope with being in the hospital," she said. "It makes this environment more normal."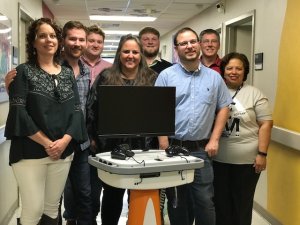 But it can also help medical professionals connect with children.
"Especially teenagers," said Williams. "They're a hard population for us to reach, and they love to play video games. So this is a way we can connect with them."
As the group of Gamers Outreach staff, ADTRAN employees, and medical professionals greeted patients with the roaming gaming kiosks Friday, they noticed the children smile and really get into it.
"I am just overjoyed about the whole thing," said MariBeth Morgan with ADTRAN. "Whatever it takes to help them get ready and be able to leave the hospital better, but also to help the staff."
ADTRAN won't just stop here, though.
"This fuels us to keep going and find new ideas with what's next for us," Morgan explained.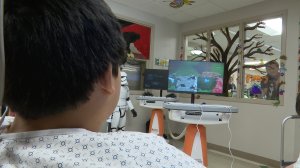 Gamers Outreach, a charity organization, was founded in Ann Arbor, Michigan and they are bringing these GO Karts to hospitals nationwide.
This pair at Huntsville Hospital is the first GO Kart in an Alabama medical center.
Wigal said it can be hard for hospitals to manage entertainment devices, because they don't have lots of tools to bring them to the bedside. That's where his organization comes in.
"We basically manufacture these portable kiosks that are easy to move around, plug into any type of hospital environment, so kids can have access to activities," he said. "We set the donor commitment for each Kart at $3500 per unit, but that includes everything. That's the kart itself, the games, the game console, the monitor, the controllers, as well as freight shipping anywhere in the US, setup, and a margin for any type of warranty."
Wigel added, "I enjoy gaming as a pastime, so we are hoping to familiarize the hospital environment for a lot of these kids."
WHNT News 19 was there as Wigel wheeled one of the kiosks in to see Ava Wall, 5, and her mother, Nicole. He quickly got Ava set up playing a Disney game.
"She's feeling better, so she's feeling like she wants more entertainment. So this is nice for her to have something to do while we are sitting here, waiting to go home," giggled Nicole. "All of her toys are at home and her iPad only keeps her occupied for so long."
She added, "Short attention span for a 5-year-old, so this is good."
Huntsville Hospital Foundation representatives say these kinds of things are mostly funded through donations, as the hospital is a not-for-profit entity. They are interested in ways to get even more of these GO Kart kiosks for the children they serve.
If you are interested in purchasing additional GO Karts for the hospital or making a monetary donation, you are asked to call Huntsville Hospital Foundation at (256) 265-8077.
Huntsville Hospital Foundation said it is a not-for-profit organization that accepts gifts on the hospital's behalf and works to fund present and future equipment and program needs for Huntsville and Madison Hospitals. For more information, visit huntsvillehospitalfoundation.org.