This is an archived article and the information in the article may be outdated. Please look at the time stamp on the story to see when it was last updated.
HUNTSVILLE, Ala. (WHNT) – Come out and enjoy the Sounds of Summer, a new music series from June through August.
Downtown is hopping – and you can be part of it by attending different events every Thursday and Friday as well as every second Saturday of the month.  The events kick off Thursday, June 5.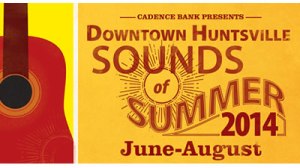 Thursdays, from 5-7 pm, enjoy a Jam Session on Westside Square. Fridays from 5-7 pm, check out Downtown Live, a live remote from the Square each week featuring a Cumulus radio station.
On the Second Saturday of the month, check out the Grotto Lights Concert Series in Big Spring Park East. Enjoy music, the new light display and street food in the park. These go from 6-9 p.m.
"There's a lot that goes on in the summer in Huntsville, and we just wanted to add some consistency to it," said Macy Chapman of Downtown Huntsville Inc. "This way, you know if you work in downtown, you know every Thursday when you leave work there will be live music on the Square — something you can enjoy – there are some new restaurants opening on the Square that have patios, so it's a great time to sit outside and enjoy a beverage and food and listen to some great bands from around Huntsville."
It's 'festival seating,' so bring a blanket or chairs.  Food trucks will also be in the circle on Spragins for the Second Saturday concerts.
Downtown Huntsville Sounds of Summer 2014 is presented by Cadence Bank and Downtown Huntsville, Inc.
For more information contact info@downtownhuntsville.org.  You can also check out the poster for more details.