This is an archived article and the information in the article may be outdated. Please look at the time stamp on the story to see when it was last updated.
HUNTSVILLE, Ala. – A newly sworn-in Huntsville Police Department officer will continue the work of his father, who was killed in the line of duty.
Among the officers graduating from the academy Friday morning was Cameron Freeman, the son of fallen Officer Eric Freeman. Cameron became an officer on the 11-year anniversary of his father's shooting.
Congratulations Cameron, your dad is very proud and so are we. Eric Freeman's old squad members stand in support of Cameron and Eric's widow, Leslie. https://t.co/f5ucVdwGvn pic.twitter.com/Z5Z93IRbZR

— Huntsville Police (@HsvPolice) December 14, 2018
Eric Freeman responded to a traffic accident at Bailey Cove and Weatherly roads on Dec. 14, 2007. He was shot by one of the people involved in the wreck and died the next day. Freeman's killer is serving a life sentence in prison without the possibility of parole.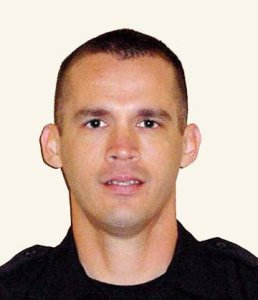 Members of Freeman's squad joined Cameron and Eric's widow, Leslie, this week at the memorial in front of the Huntsville Police Department.
"Most have moved on to other divisions of the department or retired since Eric's death but remember the sacrifice he gave and wanted to show support for Cameron," the police department said in a Facebook post.
Office Kevin Lambert was at the graduation ceremony. He worked with Cameron's dad and was there the night Eric Freeman died.
"Eric was a great guy. He was a great guy to work with. When he passed a little part of all of us died, but having his son here now, it kind of  brings that back to fulfillment."
Cameron Freeman is one of ten cadets who took an oath to protect and serve.
"He's worked his entire life to come and do this just to make his father proud," Lambert said.
Lambert says he knows Cameron's dad is swelling with pride.
"I know that Eric is looking down on him and is proud of him too."