This is an archived article and the information in the article may be outdated. Please look at the time stamp on the story to see when it was last updated.
HUNTSVILLE, Ala. – A 14-year-old boy was rescued in Helena from abusive adoptive parents in November.  Police said he had withered away to fifty-five pounds, after nearly two years of confinement in a basement.
Not long after this story first broke, we came in contact with a relative of the boy, an older sister.
She says she and her siblings just want to be there for their brother, but the system hasn't let them.
Deomica Ussery has her own experiences with foster care and adoption.  "I've been in and out of foster care since I was six years old," she said.
Deomica has kids of her own now, which adds to the challenge of processing her upbringing.  When she was a teenager, her mother gave her up, along with her four other siblings.
"She just decided that she didn't want us anymore, and she gave us up for adoption," said Ussery.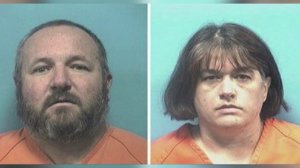 A couple, Richard and Cynthia Kelly, adopted the two youngest of the family.  Deomica and her older siblings were teenagers, and able to opt out of the system.
Deomica said when her younger brothers were adopted, "I kind of feel a sigh of relief, because I didn't want my brothers to keep going from house to house."
This should have been the answer, the stability that young kids need. But the older boy, Eddie, now eighteen, says he was mistreated here before he left.
Police said the Kellys did much worse to the younger boy, locking him away and barely giving him nourishment for almost two years.
"My question is just, why? How could you do this to a young boy that once you loved and had all this care for and wanted him in your home? What did he do that was so bad?" Deomica asked.
After the case became public, Deomica Ussery said that Eddie told her and the other siblings it was their younger brother who had been rescued from the Kelly's house.
Deomica said she struggles to get each additional piece of information, blocked by DHR.
"We want to know, is he OK? We're trying to do stuff for him for Christmas. We can't do anything. We're stuck in a rock and a hard place."
And so among the family she's built after her family was ripped apart, Deomica said,  "It's hard, very, very hard, and it's difficult because we haven't seen him in a long time. We want to see them, and we want to be there and comfort him, but we can't give him the love and care that he's missing."
Still, she understands the weariness that would have taken root while her younger brother withered in that basement.
"He has not seen us in a long time, so of course, his first initial reaction is going to be like, 'Well, I don't want to go with nobody, because I don't want the same thing to happen to me again.'"
So for now, she gives this message to her brother.  "I just really want him to know that he has family. I'm sorry. He has family that care about him, and he has family that love him."
Of course, we're not naming the younger brother, because he's still a minor.
We did speak with Eddie, the sibling closest in age.
He tells us he's learned his little brother is out of the hospital, but still very much recovering from his ordeal.