This is an archived article and the information in the article may be outdated. Please look at the time stamp on the story to see when it was last updated.
MADISON COUNTY, Ala. (WHNT) – Wednesday, Madison County Commissioners adopted a balanced fiscal year 2015 overall county budget of more than $159 million; that's up $6 million from last year.
Commission Chairman Dale Strong even touted they were able to arrive at the budget almost entirely without dipping into reserves.
The budget allots for six additional deputies and eight new firefighters.
But there is about where the warm-fuzzies stop.
The 'yays' didn't have it until District 1 Commissioner Roger Jones let it be known, he's not a 'rubber stamp.'
"My voice is going to be heard," Jones insisted. "I may be at the end of the table now but I'm still in the room."
Jones concerns with the budget began with his claim the papers before him didn't represent him at all.
"I've had absolutely no input into this budget, Jones said. "It tells me this is what we're going to vote on, Mr. Chairman, I'd say this is your recommendation — or maybe yours and some of the other commissioners — but I had nothing to do with it."
Jones made a motion to amend the budget to prevent a two-thirds cut to the Madison County Health Department to the tune of $200,000. He also took issue with the defunding of the extension service and a $4,600 reduction to the soil conservation department.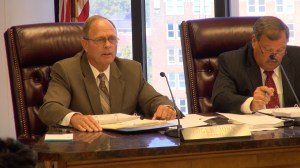 Jones chided, "We can pay $300,00 for a special election and even more on a 'Cadillac' time management system that hasn't even been put into use yet — but we can't fund programs that really help the citizens of Madison County. I say find that money. The money's there somewhere," said Jones, "find it!"
Both of Jones motions failed and he still voted against the passage of the overall budget.
Chairman Dale Strong said he met with each commissioner individually after county budget hearings two weeks ago.
"I believe that we're stretching every dollar as far as we possibly can. We're in the biggest recession that my generation's ever seen, and so tough decisions have to be made," Strong rebutted.
Another topic of much debate was the elimination of the county fire marshal position to come when Bobby Rollins retires from his post in 2015.
Commissioners will use Rollins' salary to help offset the nearly $200,000 cost of employing 8 new firefighters. The county will retain 2 deputy marshals.
Madison County Sheriff Blake Dorning's message to the commission was loud and clear.  When it comes to his department, he says, "We can't survive on the funding that we receive."​
"You have no idea," said Sheriff Dorning as he became choked up during a WHNT News 19 interview.
North, south, east or west: when you call the Madison County Sheriff's Department, you expect professionalism and perfection. Dorning says the budget he's operating under is one hearkening back to the 1950s, and one he says will only support overworked and under trained personnel. After Wednesday's budget adoption, Dorning made it clear he's willing to fight to better protect the community.
The 7th floor of the courthouse was packed as county employees awaiting the commission's final decision. Commissioners' motions for amendments — like Jones' — and department heads' appeals for changes came, as they always do. But none quite as impactful or emotionally charged as when Sheriff Blake Dorning's ranks closed around him to address the commission in a show of solidarity.
Dorning's passion for his party was palpable.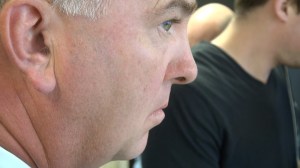 "The risks that they take are astronomical. The general public doesn't see what they see every day. When you see a TV show they can't put you through the emotions, they can't make your heart rate go up, they can't give you the smells of what you're encountering. The public has no idea. These guys see it every day. They go into homes with so much human feces and filth and trash and work cases where you have small children crawling all over the floor. Every one of them would like to just take somewhere, give that small child a bath and take it home with them to give it the care that it needs," Dorning choked back.
"And they're so underfunded. We have the funding of a 1950s rural farm town," he claims.
Dorning says the purpose of the department's united front Wednesday was to plead with commissioners to engage the local legislative delegation.
"There's been no additional funding mechanisms to help Madison County meet the needs, that the public are moving here by the thousands, expecting. Those guys up there; is it their fault?," Dorning asked, pointing up to the 7th floor commission chambers, "No it's not their fault."
Dorning says he doesn't know how or when, but says if something doesn't change, more action is necessary.
Despite that grave forecast, the adopted budget did in fact allow for 6 additional deputies as well as a $1,000 salary raise for sheriff's dispatchers. The department is also obligated to $75,000 to be spent toward fleet costs and on an additional 911 center employee.
District 6 Commissioner Bob Harrison was out of town but left a note for County Attorney Jeff Rich to read to the commission. Harrison advised against adopting the budget writing he felt it hard to support a budget that cuts from areas like the health department while the sheriff's department got 'a third of budget.'  Harrison wrote, 'by state constitution,' there was no way the commission could create new revenues and were forced to make cuts to 'meet our responsibilities.'