This is an archived article and the information in the article may be outdated. Please look at the time stamp on the story to see when it was last updated.
NOTE: This is a story we posted in 2013.  People are seeing the tiny white bugs again, and this is one of our most-viewed stories on WHNT.com in late September 2015!
HUNTSVILLE, Ala. (WHNT) – It's the question of the day, without a doubt.
"What are those little white bugs flying all around?" asked Paula Neely Yerby.
"What are these tiny tiny tiny white flies I keep seeing?" Sam Moore asked.  "Under a magnifying glass they look like miniature house flies that have been rolled in flour or covered in white mold.  Yes they bite.  Not often but every now and then they bite.
"Any of your gardening experts know what those little white flying bugs are? No matter where in Huntsville we go it like an invasion, you see white "flakes" floating around like tiny snow," asked Linda Broglan.
A few of WHNT News 19's employees spotted them too.  We checked with Ken Creel of the Madison County Extension Office for an answer.  He immediately knew what we were referring to, and says what you're seeing is the Asian Hackberry Woolly Aphid.
"They're common for this area," Creel said.  "They've calmed down considerably, but this is the worst we've seen in years."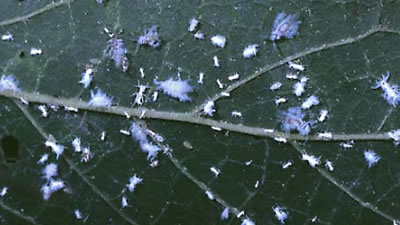 Creel said the aphids were accidentally introduced in Florida in the mid 1990s.  We've seen them in Alabama since 1998 or 1999, but only sporadically.
"This year, they're really an issue in town," Creel said.
The aphids feed on hackberry trees.  So, people who have those are seeing sticky residue on cars, patio furniture and decks.  The aphids feed on sugar from the trees and "it goes in one end and out the other," Creel said.
Creel said there are different aphids currently feeding on crepe myrtles, pecan and maple trees, too, also leaving sticky residue.
Creel said it will likely be this way until October or November, when those trees lose their leaves.