This is an archived article and the information in the article may be outdated. Please look at the time stamp on the story to see when it was last updated.
HUNTSVILLE, Ala. (WHNT) – School security found a gun inside a trash can at Lee High school on Thursday morning.
Keith Ward, a spokesman for Huntsville City Schools, told WHNT NEWS 19 a teenager was seen on security cameras and by students putting a BB gun in the trash can. Security checked the trash can and found the BB gun.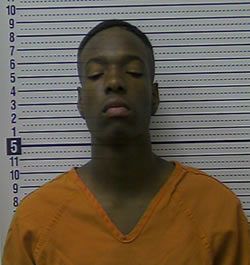 Huntsville Police identified the teenager as Adrian Darion Marquez Robinson. Police arrested the 18-year-old former student.
The teenager is not enrolled in Huntsville City Schools. We're told the teen was visiting the school to re-enroll. Huntsville Police arrested the teenager and charged him with carrying a concealed weapon.
Ward believes everything happened as it should.
"You rely on your technology, but also the eyes and ears of faculty and students. So, all of that working together definitely helped to identify this and keep this from becoming something more than what it was," said Ward.
Huntsville City Schools urges parents to remind children about policies found in the student/parent handbook which lists prohibited items.  It is a Class II offense to bring any instrument on campus which has the appearance of a gun or knife, and a Class III offense to have any type of weapon, including anything such as a BB gun or knife.  Penalties can include suspension or expulsion.