This is an archived article and the information in the article may be outdated. Please look at the time stamp on the story to see when it was last updated.
HUNTSVILLE, Ala. - We have a great update on baby Samson. He's the little boy who got a much-needed kidney transplant from a selfless family friend. Samson has finally returned home to Huntsville after spending a month in Birmingham following his transplant.
If you take a look Samson Gamble today, the joyful baby just turned two and you'd never know he has a 30-year-old's kidney.
Friend and donor Katie Neporadny was the perfect match for Samson. When he was born he was diagnosed with Prune Belly, a kidney disease.  Without the loving sacrifice of Katie, Samson's quality of life would greatly be impaired.
"He wouldn't be able to grow or develop and could possible even die," explained Samson's Mom, Anna Gamble.
But that's not the life Samson will lead. The kidney took and he's more energetic, vibrant and healthy than ever before.
"It's going to be amazing to see how it grows," said Samson's dad, Ben Gamble.
"His whole world is going to be different," added Anna.
And his story has taken hold in the community. People from all over the country have reached out the Gamble family.
"I'm just amazed by the people who care enough to really put in a lot of effort to help a family in a very vulnerable time," said Anna.
Complete strangers have made donations to Samson's procedure. Most of all, this family has seen the powerful impact of well wishes and prayer.
"I don't know how to describe how at peace we were at the hospital," said Anna. "It was because of everybody praying for us and everybody who had been loving on us."
Fundraisers within the community, donations and contributions to his COTA page total more than $20,000 raised for Samson. This fund will be available for Samson throughout his life.  His journey with kidney function is one that will continue through his life. Thankfully, he's largely in the clear for the next two decades with Katie's donation.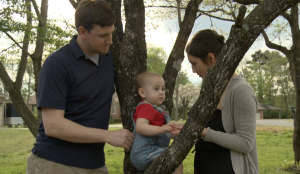 For now, this family gets to relax and enjoy have a healthy toddler for the first time. As far Samson's concerned, this is his world and we're just living in it. He's "Samson strong" and has no boundaries.