This is an archived article and the information in the article may be outdated. Please look at the time stamp on the story to see when it was last updated.
MADISON COUNTY, Ala. (WHNT) – They've done it again. This weekend after competing in Orlando, the Sparkman High School Cheerleading team brought home their 12th title from the National High School Cheerleading Championships. The NHSCC, held at the Walt Disney World Resort, is nationally televised on ESPN and ESPN2 to over 100 million homes and 32 countries nationwide each year.
Turns out, the victory was quite the uphill battle. Out of 23 squad members, 15 were brand new — including 6 map member to the co-ed team who had never cheered a day in their lives before March of last year.
"We started from the very bottom and had to build everybody up," says Chelsea Aderholt who led the team alongside senior squad co-captains Michaela Perrin, Kendall Foshee and LaKeia McGlathery.
"I just cried and cried and cried when they won," says Head Coach Lisa Aderholt. "These kids — I never would have dreamed they would have been national champions — now, we talked it and we worked like we were gonna be but then when it actually happened it was like a dream come true from these kids."
Coach Aderholt has led 9 Sparkman cheer teams to national titles. She says this one is extra special.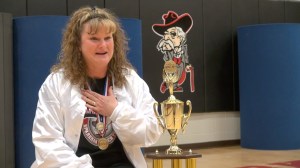 "Because my daughter was a senior on the team this year, and — I'm gonna cry in just a second," Aderholt explained, choking back tears. "She's been 18 years going to every competition with me and for her to have seen all these teams win, it was just probably the best feeling in the world, as a parent as well, for her to have finally gotten the opportunity to get that white jacket."
Nikki Brower, a 1997 Sparkman cheerleading National Champion, followed the current team on their way to the top this year. She is producing a Documentary called, 'Cheering for Madonna' to honor the legacy of Lisa Aderholt's mother Madonna Holladay, who coached the Senators for 25 years. Holladay passed away 3 years ago. The documentary will honor Holladay and the indelible effect she's had on the sport all over the region. Aderholt explains its will also showcase the real world of competitive cheerleading — not the one portrayed in Hollywood.
"You're supporting your athletic programs, you're representing your school in a positive manner and then you're also working — because you're a true athlete," Aderholt says.
Nikki Brower plans to submit her documentary to ESPN. She was present for team's Orlando win and she's driving up Wednesday to be present when the squad posed for the team photo that will grace the gym wall alongside the champions of years past.
"This program is so much bigger than me. My mother started it in the 1970's and she worked and those kids and cheerleader who came before us — they're the foundation for all this."
Madonna Holladay's tutelage and influence will soon be immortalized in more than just the minds of all the young lives she's touched.​