This is an archived article and the information in the article may be outdated. Please look at the time stamp on the story to see when it was last updated.
HUNTSVILLE, Ala. (WHNT) -The Huntsville Planning and Zoning Commission voted to move plans forward for the proposed rezoning of the property near Westlawn Middle School. Now the proposal will go before the Huntsville City Council. They will hold another public hearing the proposed rezoning in September.
_______________________________________________________________________________________________________________________________________________________________________________
As the Huntsville City School Board decides how they want to dispose of repurpose old buildings no longer in use, a private developer is interested in bringing a Walmart Neighborhood Market to the old Westlawn Middle School site. But some rezoning is needed to make the sale and redevelopment possible.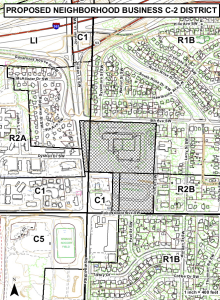 In late April the Huntsville Planning and Zoning Commission received the original application to rezone the area near Westlawn school from residential to commercial. Stakeholders initially looked at C-1 zoning but that was a little more heavy scale than most folks in the neighborhood were comfortable with. So they settled for a C-2 designation, which is comparable to C-1 with some additional restrictions about large billboards and signage.
About 10 people showed up to a meeting to express their disdain for bringing a large grocer to the neighborhood located near the intersection of Jordan Lane and 9th Avenue in west Huntsville. While not everyone is a fan of Walmart, Huntsville Manager of Urban and Long Range Planning assures the desired model would be a logical landing point for a commercial development.
Walmart Neighborhood Markets are usually about 40,000 square feet -- about a third of the footprint of a typical Walmart development.
"This is in a neighborhood that has, by all accounts, really been asking for a new grocery store; has been asking for these sorts of services," Madsen says. "And I think the C-2 designation really allows for more of a neighborhood scale of development and is much more appropriate for the surrounding areas."
All neighborhoods can see cycles of divestment over the years, but as far as the city is concerned, interest for redevelopment and revitalization speaks volumes.
"Seeing especially private sector reinvestment, seeing a private developer who wants to come in and wants to put money on the ground; that's a great sign of health for a community and a great sign that things are starting to look up and you really want to be able to support that."
The Huntsville Planning  and Zoning Commission will hold a special meeting set Wednesday morning bright and early at 7:30. Members will either decline or approve proposed rezoning for the area. The special session is needed because of the time constraints on the potential deal. The contract is contingent on approval of rezoning for the property and only has a 120 day window.
It has been more than 30 years since this area of town has seen any major development interest. In August Huntsville City Council will set a public hearing on the matter to be held on Thursday Sept. 10.