This is an archived article and the information in the article may be outdated. Please look at the time stamp on the story to see when it was last updated.
HUNTSVILLE, Ala. (WHNT) – Today, following the police report that Barrow drowned her son and then killed herself, members of Huntsville's autism and special needs communities are grieving their loss and wondering what signs they missed that her life may have become too overwhelming to bear.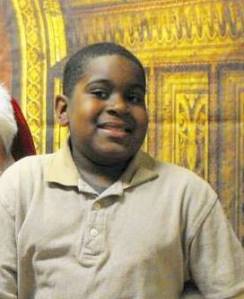 Randle Barrow's friends and family are certainly not the only ones reeling from news of the 8-year-old's death. Those who worked with him closely at Huntsville's Riley Center – as well as the special needs service provider community as a whole – surely have awareness and advocacy heavy on their minds today, asking 'what went wrong?'
Huntsville Police have not said how Delicia Barrow died or what caused the fire. The investigation is ongoing.
Neither Huntsville Police nor the Madison County Department of Human Resources would say whether they'd been called to the Barrow home in the past.
Melody Crane, director of the Riley Behavioral and Educational Center, an autism center in Huntsville where Randle was enrolled, sent out a press release Monday morning. She wrote:
"After having worked closely with authorities following Randle's absences from school, we were contacted early Sunday morning by investigators to inform us that Randle Barrow's body was recovered from Guntersville Lake. No other details surrounding Randle's death have been released to us at this time. We are shocked and so very deeply saddened by this loss. Randle was a joy every day he was with us. He was always smiling, giggling and greeting those around him. His concern and caring for his classmates and teachers were evident every day. Randle will be greatly missed and our hearts go out to his family."
Many special needs service providers and advocacy groups were reluctant to comment on the case on camera, but the vast sentiment from all of them is that parents need to know help is out there.
Riley Behavioral and Educational Center is one of several local organizations that offer help not only for children with disabilities but for the parents.
Below are links to other helpful resources for parents and their children:
United Cerebral Palsy of Huntsville
These are people who can provide Applied Behavior Analysis.  They offer different types of services, some school setting, in-home therapy, etc. We recommend you contact each provider to see what fits your child and your family's needs:
Behavioral Intervention Services, Inc.
Brandy Worthy, BCBA, Director
P.O. Box 4416
Huntsville, AL 35815
Phone: 256-527-8061
Email: beh_int_serv@behavior-intervention.com
Website: www.behavior-intervention.com
Behavior Unraveled
Jane Veverka, M.Ed., BCBA
Autism & Behavior Therapist/Consultant
Phone:  256-714-4363
Email: behaviorunraveled@gmail.com
Applied Behavioral Concepts, Inc.
Carol D. Vancil, BCBA
P.O. Box 6773
Huntsville, AL 35813
Phone: 256-783-5151
Fax: 256-837-1838
Email: info@appliedbehavioralconcepts.net
Website: www.appliedbehavioralconcepts.net
Best Solution, LLC
Behavioral and Educational Services and Therapy
Kimberly Marsh, M.Ed., BCaBA
Huntsville, AL
Phone: 407-716-7724
Email: kimberly.m.marsh@gmail.com
The Riley Behavioral & Education Center
Kimberly Travis, M. Ed., BCBA
Tam Dahlgren, M.Ed., BCBA
Jessica Epperson, M.S., BCBA
Katie Divelbiss, M.A., BCBA
Holly Sharpe, M. Ed., BCBA
Robert Phillips, M.A., BCBA
4092 South Memorial Parkway
Huntsville, AL 35802
Ph: 256-882-2457
email: office@therileycenter.org
www.therileycenter.org
Self Discovery
Shea Self, BCBA, Owner/Director
P.O. Box 161
Florence, AL 35631
Phone: (256) 757-6621
Email: selfdiscoveryaba@gmail.com
Website: www.selfdiscoveryaba.com
Reporter Kelly Kazek with our news partners The Huntsville Times, al.com contributed to this report. read Kazek's full article here.