This is an archived article and the information in the article may be outdated. Please look at the time stamp on the story to see when it was last updated.
MADISON COUNTY, Ala. –  We are always looking to bring our viewers answers about things going on in their community. One of our viewers contacted us asking how much longer Publix at the Harvest center shopping plaza will be charging a one percent fee.
She sent an email saying: "I don't remember when they opened for business. I do know it has been several years. I don't know how many customers they get on any given day. Maybe you can find out. The big problem to me is they are still charging the harvest fee."
The fee,  referred to as the 'Harvest fee' is added in addition to the sales tax, bringing the tax from 5.5% to 6.5%.
Publix has been charging the 'Harvest Fee' since it opened in 2008.
"I was thinking 10 years was enough," Wanda Hicklin said.
Hicklen is tracking her spending… "Like one of these the Harvest Fee was 22 cents. That's not much, but you add it up every time you go then it's 45 then it's 36…"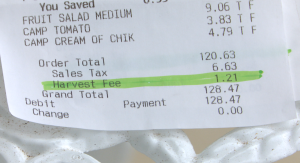 She lives on a fixed income and is tired of paying the one percent Harvest Fee. "It makes a difference at the end of the month when you're just before you get your check, and you've run out of money you know," she said. "Those few dollars matter."
Hicklin and other customers are going to be paying that fee for a while longer.
"It started in 2008 and they're going to be paying till let us say March or April of 2023. I believe it's a 15-year bond. A $2 million bond," Madison County Commissioner, Phil Vandiver said.
If you go shopping in this area, Publix won't be the only store charging that one percent fee; all the businesses in this shopping center do. It's to pay off that $2 million that went toward construction costs on Jeff Road and Highway 53 and also to bring in a sewer system.
"Without that sewer, a Publix or something like that can't come into an area. You just have to have the sewer for that many people to be visiting, that much water to be used," Vandiver said.
The sewer is connected to the Harvest-Monrovia water authority. He says this paved the way to being able to build the store. Normally, building a grocery store in the county is difficult. When the area is closer to the city limits, it's normally annexed into the city.
Commissioner Vandiver says the Harvest Fee is unique to this shopping center. He says it was the first time the commission approved that kind of fee and they haven't approved one since. He also admits he doesn't know when they would again.
"It will have to be one that's just brought up uniquely fits the situation. You got to have sewer in a relatively distance close by. You can't bring it from 15 miles away."
Vandiver says he considers the fee, a convenience fee. There isn't another grocery store for five or seven miles and the plaza keeps business in the area.
"There's restaurants, there's cleaning stores, there's all kinds of stores there for our people to not have to drive any further than they have to shop in our area. we like to keep them here. [We] Like to keep the money coming to Madison County."
As for Wanda Hicklen? "We'll deal with…We'll do what we got to do." she said.
She is happy to have answers and is glad the end of this fee is in sight.
The principal balance left on the $2 million bond is about $961,000. The payment on the bond is $18,000 a month.