This is an archived article and the information in the article may be outdated. Please look at the time stamp on the story to see when it was last updated.
HUNTSVILLE, Ala. – Life is returning to normal for a Huntsville family a few days after a dog rescue gained national attention. The Smith family says they're focused on finding a good home for Toffee and the other rescue pups.
"I've experienced every emotion known to man," Karen Smith said she still can't believe the last few days.
"I was overwhelmed by it, I cried several times. It's amazing," Smith said. Pieces of pipe and water bottles are scattered around her backyard, remnants of an impromptu puppy rescue.
"I told the guys, I didn't want to leave until it was done, and most of them felt the same way," Stephen Reliford said. Reliford works for Roto-Rooter in Huntsville, and showed up with his co-workers on Friday when they heard Toffee was trapped.
Dozens of volunteers showed up to help save her foster dog Toffee after the 7-week-old fell down a 50-foot crevice on Thursday. People around the country couldn't turn away from the live streams of the rescue efforts until Toffee was safe. Now, she's back in the house, running around with three of her littermates, Cotton Candy, Snickerdoodle, and Brickle.
"They don't realize what has happened, they're just acting like normal puppies," Smith said.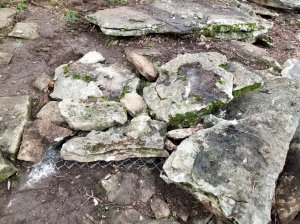 Once Toffee was out of the hole, Karen says her priority was making sure this never happens again. So, true to their word, some of the same men who helped with Toffee's rescue came back to the home, less than three days later, to patch up this trouble spot with chain link and heavy rocks.
"I feel a bond with the dog. It's nice to hold her and know she's OK and that I was part of making sure she's OK," Reliford said.
Smith says Toffee has a Merle gene, which can lead to blindness and deafness among dogs. She wasn't sure anybody would want Toffee, but that was before the little dog became an unexpected icon.
"Because of a terrible thing that happened, she'll be able to find a really good home," Smith said.
Until that happens, Smith is thanking everyone who helped and is encouraging people to adopt a dog or cat from "A New Leash on Life".
Toffee is one of seven pups in her litter. In the next few weeks, they'll be spayed, neutered and be given their shots. If you're interested in applying to adopt those dogs, you can apply on the New Leash website.