This is an archived article and the information in the article may be outdated. Please look at the time stamp on the story to see when it was last updated.
DECATUR, Ala. (WHNT)–WHNT News 19 received a tip from a caller late last week who claimed high levels of Radon had been detected in Wallace Hall on the Decatur campus of Calhoun Community College. The caller also claimed classes were in session while maintenance crews worked installing a ventilation system to clear out the Radon.
The caller, who remained anonymous but appeared to have insight into the situation, told a WHNT News 19 producer Calhoun faculty and staff were called into a meeting about the alleged Radon levels detected and were asked to keep quiet about the situation.
The anonymous caller added a claim that five individuals who had worked in Wallace Hall in past years had been diagnosed with cancer.
With such a claim of a potentially unsafe working and learning environment WHNT News 19 decided to take action and bring the concerns directly to Calhoun's public information specialist Janet Martin who said the claims were based on misguided speculation.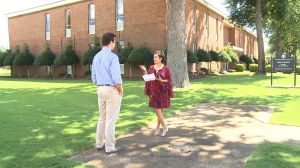 Martin says after routine Radon testing at Calhoun's Huntsville campus administrators decided to do the same in Decatur. Martin admitted Terrell Technical Services, Inc. of Madison, the company who tested several buildings on campus, did find something.
"Nothing was found in the Chasteen Student Center," Martin said Monday, "but there was a slight amount of Radon detected in Wallace Hall."
As a precaution for the nearly 13,000 students and staff on campus, Martin said the dean of business at Calhoun instructed maintenance crews to contact Terrell Technical Services, Inc. and instruct them to install a new ventilation system to mitigate the Radon levels.
She says teachers and staff were informed of the work last Friday in a meeting where faculty were permitted to ask questions of the Radon mitigation specialist.
"Rather than have people make speculation the day the work was done and having all kinds of questions we decided to hold an employee meeting for anyone who was either in this building or had ever been in this building," said Martin.
Martin says the work installing underground ventilation systems was fortunately done between semesters and did not disturb classes.
"That's merely speculation," Martin said in response to allegations that Radon levels in Wallace Hall had caused several employees to become ill. "There have been several people on campus diagnosed with cancer over the years. One person did indeed die from lung cancer, but was also a heavy smoker," Martin explained. 
Janet Martin says Calhoun has already made arrangements to test every single building, old or new on the Decatur campus.
Representatives from Terrell Technical Services, Inc. told Calhoun's maintenance manager for the levels of Radon Found in Wallace Hall to be potentially dangerous or cancer-causing an individual would have to be exposed to those levels 18 hours a day for 70 years.
Radon, a naturally occurring colorless, odorless gas is widely prevalent in the Tennessee Valley area due to the geographical location. While January is National Radon Action Month, there is no wrong time to have your home or business tested. Click here to learn more about how to protect yourself and your family from Radon gas exposure.