This is an archived article and the information in the article may be outdated. Please look at the time stamp on the story to see when it was last updated.
HUNTSVILLE, Ala. (WHNT) – On Saturday, hundreds of people were captivated by an impromptu speech by Clint Lampkin, a man who claimed to be a survivor of the Pulse Nightclub Shooting in Orlando. But now, his presence in the club is coming into question.
"I was in the bar when it all happened," Clint told the crowd.
One of Clint's Facebook friends from his home state of Arkansas sent WHNT News 19 this screenshot from Clint's Facebook Page: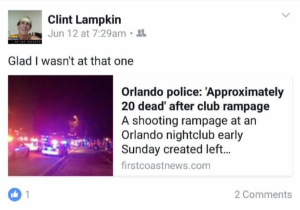 You'll notice it's dated June 12, 2016, the morning of the Orlando terror attack, and says "Glad I wasn't at that one."
WHNT News 19 employees spoke to Clint over the phone Monday, and he says his Facebook account was hacked and that he never made that post. He still claims he was at the Pulse Nightclub the night of the shooting. "I have really bad anxiety attacks, so I just kinda, I don't know, my mind is just gone," he told us on Saturday.
We asked him for additional details surrounding the night of the shooting Monday over the phone, and he gave us the same response – that the trauma of what he's witnessed has erased his memory.
"I did lose a friend that got shot," he told the crowd Saturday. We asked Clint for the name of his friend who he said died inside the club. He answered that he had only known each other for a short time and didn't remember the victim's name.
"You don't want to think that anyone would take advantage of the situation, and quite honestly, I don't know whether he did or not," says James Robinson, the CEO of Free2Be and organizer of the Rocket City Pride Memorial Service.
Robinson says he's also fielded calls from individuals who claim Clint's story isn't true.  "I don't know anything about Clint, he's not affiliated with Free2Be and he's not one of the planned speakers at the Rocket City Pride Memorial," Robinson says.
We have left a message with the FBI Field Office in Tampa to see if we could confirm that he was inside the club. If we get a response, we'll be sure to share that information.