This is an archived article and the information in the article may be outdated. Please look at the time stamp on the story to see when it was last updated.
HUNTSVILLE, Ala. (WHNT)-- Community leaders from Madison County including Huntsville Mayor Tommy Battle and Madison Commissioner Dale Strong helped Village of Providence developers break ground on the final phase of a bridge that's been called the "bridge to nowhere" for years.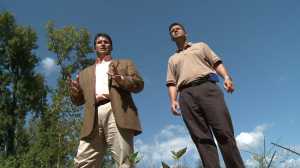 The bridge was built several years ago but hasn't served a purpose until now. Developers say it will connect the next phase of the growing Village of Providence.
The phase continues the Village of Providence's 10th Anniversary Celebration by crossing Indian Creek and the Village of Providence bridge.
Village of Providence developers David Slyman and Todd Slyman say they still have big plans for the development, but have not released details of future additions. In recent years hundreds of new apartments, a new hotel and several restaurants have been added to Providence.
Last month, the Huntsville City Council approved a motion to open an entertainment district in the Village of Providence. Councilman Will Culver proposed the district in September, and the motion passed unanimously.
Culver said Providence seemed like a natural fit for another entertainment district and says the proposal gained overwhelming support from the community.
The new district's hours will be:
Wednesday & Thursday: 4 p.m. – 10 p.m.
Friday: 4 p.m. – 11 p.m.
Saturday: 11 a.m. – 11 p.m.
Sunday: 4 p.m. – 10 p.m.