This is an archived article and the information in the article may be outdated. Please look at the time stamp on the story to see when it was last updated.
HUNTSVILLE, Ala. (WHNT) – Prosecutors have requested the bond for a man accused of multiple child pornography related crimes be raised to $1 million after some disturbing new details were revealed about the case.
*Disclaimer: the following story contains non-explicit, but disturbing information about child abuse charges.
Carl Phillip Herold, 32, is charged with two counts of Sodomy 1st, Aggravated Child Abuse, and three counts of Sexual Abuse of a Child Under 12.
The motion to increase Herold's bond stated, "The victim in this case was kept in Defendant's home, without schooling or interaction with others outside the supervision on Defendant or his co-defendants, for eight months."
The motion also claimed Herold repeatedly took the victim across state lines for criminal sexual purposes.
Prosecutors argue since Herold was willing to cross state lines in the past and has no familial ties to Huntsville or Madison County, a high bond is needed to make sure he stays in the Madison County area.
In an earlier filing, Herold was accused of videotaping and photographing a nude 9-year-old who was being sodomized and sexually tortured.
During a hearing on Monday afternoon, prosecutors also sought a $1 million cash bond for Charles Walker Dunnavant in connection with this case.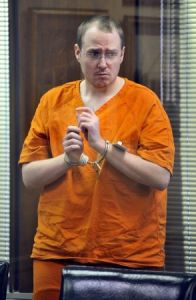 Dunnavant is charged with sodomy, sexual torture, aggravated child abuse and transmitting or exposing someone to a sexually transmitted disease, according to Assistant District Attorney Jason Scully-Clemmons.
Scully-Clemmons says both men are considered co-defendants in the case. Scully-Clemmons would not rule out the possibility of other people being involved and said the case is still an open investigation.
Dunnavant, who is from north Alabama-southern Tennessee, worked as a loan officer for Redstone Federal Credit Union until the investigation began in early November, Madison County Assistant District Attorney Gabrielle Helix said in court Monday.
Our news partners at al.com reported Dunnavant lived with Herold  in Huntsville. Court records list Herold's address on the 3000 block of Lakewood Drive Northwest.
Dunnavant was arrested at a family home in Lincoln County, Tenn., Friday investigators said. During a hearing Monday seeking to raise Dunnavant's bond from $276,000 cash-only to $1 million cash-only, Huntsville Police Department investigator Chad Smith testified he was contacted by the FBI in early November about the possibility of a child sex victim in Huntsville.
Smith said investigators came across numerous photos depicting sexual torture involving a child. Smith said investigators had an interview with the child, who is now 9.
In arguing for the $1 million bond, Helix said bond is about securing the defendant's presence in court and community safety.
"He has the means of travel, family out of state and some of the allegations are there was much travel in the lives of Dunnavant and Herold," she said. "They held the child captive for eight months and there are no standards, taboos or lines this defendant and his co-defendant hesitated to cross."
The cases are expected to be consolidated for prosecution in Madison County.
"There are other potential jurisdictions with defendants, not anywhere near Alabama," Helix said.
Herold is scheduled to go before a Madison County judge on Tuesday afternoon.
WHNT News 19 will continue to aggressively track down new information in this case.  
(Our news partners at The Huntsville Times/AL.com contributed to this report)