This is an archived article and the information in the article may be outdated. Please look at the time stamp on the story to see when it was last updated.
HUNTSVILLE, Ala. (WHNT) – There was a time when taking a bite of a chicken sandwich just meant you were hungry. Now it has become a symbol of whether you stand for or against same-sex marriage, or – alternately – the right to express your personal views without fear of retaliation.
"Welcome to Chick-Fil-A.  How may I serve you?" — That's the message heard by thousands nationwide as flocks showed up to crow in support of the fast-food chain following flap over company CEO Dan Cathy's public statements in support of traditional marriage.
"Well if they all love Jesus and they love Chick-Fil-A, they couldn't be in a better place," said appreciation day supporter and Huntsvillian Henry Fuch as he waited outside the Whitesburg Drive restaurant.
"I've worked here since this place opened in the mid-90s and I've never seen the traffic like this," said one Chick-Fil-A employee who donned a neon vest while directing the sea of cars Wednesday.
As early as 6 a.m. according to Chick-Fil-A employees, dozens were taking a political stance while taking their Polynesian sauce, signature waffle fries and sweet teas.
"Are y'all okay? Does anybody need any water?," asked one employee who ushered parents with infants and elderly patrons waiting in the early August sun to the front of the line.
"That's just a part of being a Chick-Fil-A team member," she said. "We love people and we are a Christian organization, we have to look out for one another," she added as a line of customers outside cheered.
John Honea said he came out to specifically support what he calls the restaurant's core Christian values.
"Yes, I'm here to support Chick-Fil-A, Dan Cathy's stand behind the Biblical foundation of the family and also my First Amendment right."
Meanwhile, some student members of the University of Alabama in Huntsville Gay-Straight Alliance Group are calling for the Chick-Fil-A restaurant on campus to be removed. Alliance founder and president Heather Shelton says having the chicken chain on campus is not consistent with the university's non-discrimination policy.
And though the controversy surrounding Chick-Fil-A has been parodied by some in the gay community, not everyone considers the situation a laughing matter.
"Every person in this line and everyone in this restaurant has someone in their family or very close to them who they love dearly who is gay, lesbian, bisexual or transgender," said James Robinson, founder and executive director of Huntsville's GLBT Advocacy & Youth Services, Inc. 
Robinson was recognized for his work fighting bullying during the February 19, 2012 14th Annual Vigil for Victims of Hate & Violence in Montgomery.
"Marriage equality in this country is a civil right," says Robinson, "it's a human right that no group of individual citizens in this country should have ever been denied to begin with."
While others stand in long lines outside Chick-Fil-A while also standing by what they call "Biblical definitions", Robinson says he imagines if, say, Gandhi or Dr. Martin Luther King, Jr. were to pull in for a spicy chicken combo on national appreciation day: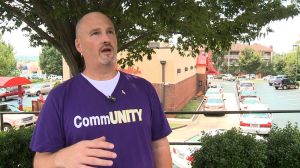 "They would probably advise me to approach these people with love and acceptance because they're victims of misinformation, they're victims of religion used badly," says the civil rights activist. "I do not believe people understand that when you use a platform to give messages which lead to hatred that they contribute to suicides, they contribute to thousands of homeless youth being on our streets, they contribute to these young people becoming drug addicts, becoming involved in sexual exploitation. The people who share these messages," Robinson says, "in some way contribute to hate crimes. Our words are extremely powerful, they're extremely important and we are responsible for the things we say and the consequences of those words," Robinson added.