This is an archived article and the information in the article may be outdated. Please look at the time stamp on the story to see when it was last updated.
HUNTSVILLE, Ala. – For the second time in two months, a jury has been unable to reach a verdict in the federal civil rights case against a Madison police officer.  Wednesday, the jury in Eric Parker's second trial said it was deadlocked, unable to reach a unanimous verdict.  The judge declared a mistrial.
Eric Parker jury deadlocked. Mistrial declared.

— Brian Lawson (@BrianLawson15) November 4, 2015
The jury voted twice Wednesday and said they were stuck.  They were in their third full day of deliberations. The nine-woman, three-man jury deliberated for more than 16 hours before telling the court they were deadlocked and they didn't think more discussion would be productive.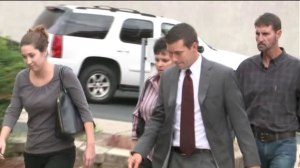 After the first mistrial in September, the U.S. Attorney's office pledged to try the case again.  Asst. U.S. Attorney Robert Posey said Judge Madeline Hughes Haikala is  reviewing a defense motion for judgement of acquittal. She denied two similar defense motions during the trial.   If she grants it, that ends the case against Paker. If the judge denies the acquittal request, the government will consider trying it a third time.
"I feel strongly about the case — it's something we're going to discuss," said Posey.  "I haven't changed my belief that this is a strong case, and it would be nice to get a resolution."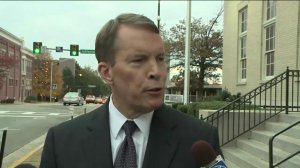 Posey admitted civil rights cases are difficult.
"We have to prove not only that the defendant used excessive force, that he violated the Fourth Amendment, but also, when he violated the Fourth Amendment, he knew he was committing a crime.  That's what makes these cases so difficult to prove. And it's often the sticking point for the jury."
Parker, a Madison police officer, is charged with violating a man's civil rights earlier this year, when he took down Sureshbhai Patel, a 57-year-old Indian man who does not speak English. Parker and a trainee officer were responding to a
"check subject." Patel was walking in the neighborhood where his son lives. He testified he tried to show police where he lived and walked toward the house. The defense argued Patel did not follow police commands and walked away from the officers three times.
Parker's attorney, Robert Tuten, said his client has mixed emotions about Wednesday's outcome.
"He's disappointed there wasn't an outright acquittal, but also happy there wasn't an outright conviction," Tuten said.  "That's a testament to how complex this case is."
"His life has been on hold for the last nine months while we've been trying to clear this up," Tuten added.
Parker and his family quickly left the courthouse Wednesday, not issuing any comment.
Deliberations
Tuesday afternoon, the jury indicated they were stuck.  However, the judge urged them to keep going and jurors returned to the closed room.
The judge issued a charge recommending they continue deliberations in good faith. She told the jury that no future jury would be better positioned to reach a verdict.
Wednesday, after working until 3 p.m. the jury passed a note to the judge.  All parties were called to court and the jury foreman said they were deadlocked, after taking two votes.  They could not reach a unanimous verdict.
Parker was on the stand for two hours Friday morning.  He said he didn't mean to hurt Patel when he took him down in February. Patel said he does not speak English and told officers that when they approached him. Parker testified he believes Patel understands English.
Parker said he warned Patel not to pull his hands away, but when he did, Parker said he was afraid Patel had a weapon.  Patel's refusal to comply, Parker testified, was why he took him to the ground. Parker said he didn't sweep Patel's leg, he fell and his leg grazed Patel's. The prosecution argued Parker clearly kicked out Patel's leg. Posey also argued the videotape does not show Patel pulling his hands away from Parker.
Patel suffered partial paralysis from the encounter and now uses a walker to get around.
Read more coverage of Eric Parker's trial.