This is an archived article and the information in the article may be outdated. Please look at the time stamp on the story to see when it was last updated.
HUNTSVILLE, Ala. – Several high profile incidents have happened at Grissom High School during the last month.  One involved a student punching a teacher.  Another involved several students in a hallway fight, and a third involved a student being arrested with a weapon.
The student who punched the teacher was expelled, as well as the student who brought the weapon. The students involved in the fight were suspended.
Despite those punishments, many parents, students and teachers have contacted WHNT News 19 about the continuing disciplinary issues at Grissom, as well as other high schools.
Thursday, a parent brought his concerns to the Huntsville Board of Education.
"Bottom line up front, even after the Grissom High School administration expelled and suspended the students involved, Grissom High School parents are still very, very concerned," Mark Binner said as part of his statement.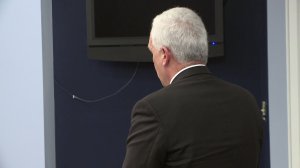 Thursday night's meeting was very long, lasting about four hours. The board took a recesss and then returned for the Citizen Comments portion at the very end. Binner had prepared an extensive statement, but only read the beginning and end portions in order to keep his comments within the time limit.  He also provided copies to Superintendent Casey Wardynski and each of the school board members.
He made several suggestions about improvements that could be made, including limiting student entry points and performing more school safety assessments.
WHNT News 19 spoke with Binner earlier in the day about his reasons for speaking up.
"As a parent with a student at Grissom High School I am concerned for my son's safety but also the safety of other students," he said.  "You know we have always been concerned, but then that level got very, you know it increased significantly."
Binner said he has talked with many other parents, estimating about 50, and said they share his concerns. He said he hopes the school board is responsive.
"I just very much want them to have an open mind you know let them know that we are concerned," said Binner.
WHNT News 19 reached out to Huntsville school board members for comment on Binner's proposal.  District 3 Board Representative Elisa Ferrell replied to our email on Friday afternoon.  Ferrell's district includes Grissom. Here is the full text of her email:
"Mr. Binner and I have spoken and emailed on a number of occasions about many different topics, the most recent being security at Grissom.

One step in keeping a high school moving forward is to make sure we know the needs of the students as they come to us. We are seeing several high school students return to public school from private and home school. When you couple that with families moving to Huntsville from out of town or out of state, we have a sizable number of new students. In response to the large number of students we are receiving, and the need to have accurate and consistent registration practices in our city, Huntsville City Schools is considering centralizing new student registration. We would be able to obtain school records from other cities or states more rapidly and efficiently. Prompt receipt of official records along with placement exams, would give us additional tools to accurately address our students' academic needs. Those same records also allow us to evaluate any student discipline issues we need to address. We would be able to quickly identify the students who need extra assistance with their behavior, and work with their parents and a team of educators to help them with the transition to our schools. I am not sure if you are aware that in Alabama, if you are expelled from one public school, you are expelled from all public schools. The rapid receipt of the official out of town or out of state records would also help us quickly identify the students who are prohibited from enrolling in our public schools.

Elisa Ferrell represents District 3 on the Huntsville Board of Education (Photo: huntsvillecityschools.org)

In the Summer of 2014 there were some inaccuracies in reporting on our SAFE Schools program. If you will recall, SAFE Schools was the program where we received tips on potential threats and reviewed sources like social media to evaluate the tip. There was public outcry against the program due to the inaccuracies of the report, so ultimately HCS discontinued the program. The SAFE schools program prevented several incidents that were very similar to the ones that recently happened at Grissom. Had the program not been discontinued, two of the three situations at Grissom would have been prevented. As an aside, Huntsville City Schools found when the public had accurate information on the course and scope of SAFE Schools, they were overwhelmingly in support of it.

We are always exploring and evaluating all our options to keep our students and staff safe. Our new facilities have been built with security in mind, and we have brought in experts in the security industry to assist us in the design. The new Grissom building is being built with an eye towards safety. Also, our new facilities all have state of the art tornado shelters. Considering we live in Tornado Alley, a tornado is probably the greatest threat we have to the safety of our students and staff.

One of the things Mr. Binner requested was a parent meeting where Huntsville City Schools would share all the information on the security plans we have in place. Revealing our complete plan for security would negate or eliminate its effectiveness. It would be similar to publicly posting the combination to a home safe. There may be 99.9% of the population who would never even consider opening the safe, but the ones who would, were just given complete access. Mr. Binner also wanted us to remove or block doorways to prevent people from getting into the building. We have fire codes that we are required to follow. In the event of a fire, we must have multiple points of egress to accommodate the evacuation of 2000 students and the staff and faculty.

Thank you again for contacting us. The safety of our students and staff is paramount to Huntsville City Schools. It will always be a top priority to provide a safe learning environment."
If you have concerns about your school, here is a link to email Huntsville school board members. The board's next work session is Thursday, March 3 at 5:30 p.m. at the Central Office, located at 200 White Street.  The next board meeting is Thursday, March 15.  Here's information on how to speak up during Citizen Comments.