This is an archived article and the information in the article may be outdated. Please look at the time stamp on the story to see when it was last updated.
HUNTSVILLE, Ala. – Huntsville Hospital has embraced new technology meant to link patients to their medical records in a secure, easy, and fast way, while protecting patients from identity theft. It is now using palm scanners, with plans to expand the palm scan program to affiliate hospitals and enroll more patients.
Palm scanners are currently found at every registration area at Huntsville Hospital, Huntsville Hospital Women & Children, Madison Hospital, and The Heart Center.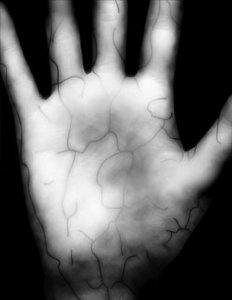 "There's an infrared light that scans the unique vein pattern in your palm," Audrey Daniel, Patient Access Services Project Manager, explained. "That unique vein pattern becomes an encrypted and protected digital file that links directly to your medical record."
This, she explained, can be used to make the process a lot quicker, especially for returning patients. Plus, it protects against fraud.
"Since the vein pattern in your hand is so unique, no one can pretend to be you," Daniel said. "It really helps with identity protection for the patient." She added, "It's a secure and fast way to get our patients into the system."
In order to be read upon registration, a patient who has already been enrolled in the palm scan program can provide the assistant with their birth date and then participate in a palm scan. The staff member assisting them can then, within seconds, view their medical history, your demographic information, who their attending physician is, and their most recent visits.
The hospital wants to see more people put into the system and enrolled in the palm scan program because it can also be helpful to identify someone in a crisis.
"If you happen to come into one of our facilities and you are unresponsive, but you have already had your palm scanned before, the medical team could scan your palm, pull up your medical record with all that vital information they need, and get your care started as quickly as possible," said Daniel. "It's really important that we are able to identify you because we want to make sure we have your medical history and we aren't giving you a medication you're allergic to. We will treat you appropriately based on your medical history."
If you've been into Huntsville Hospital lately, you may have already experienced the palm scanners. It launched this nearly a year ago. They have slowly grown it through the network and continue to do so.
The goal is to allow for medical record sharing between the facilities, to get you the right care faster.
"If you are already enrolled, which means you've already had your palm scanned at one of our facilities, it's going to be instant access at our other participating facilities," said Daniel.
The hospital plans to start the program in affiliate hospitals, expand it to the departments where they currently don't use it at Huntsville Hospital, and take it out into the community for anyone wants to enroll and put their palm print into the system.
"This summer, we are going to be teaming up with Huntsville Hospital's Mobile Medical unit," Daniel explained. 'So we will be going out to a lot of health screenings, health fairs. We are going to be setting up a table and get as many people scanned as possible."
With this new technology, your palm can become a gateway to information they need at the hospitals in order to make you better. Daniel said the scans are protected medical information, meaning the hospitals can not share it with anyone else including law enforcement.