This is an archived article and the information in the article may be outdated. Please look at the time stamp on the story to see when it was last updated.
HUNTSVILLE, Ala. – A WHNT News 19 viewer has an interesting question. How do you correct a misspelled manhole cover?

Joel Elliott brought the error to our attention on Twitter. He's absolutely right.. the city's name is misspelled 'Huntsivlle.'
There's more than one of them.  We stepped outside WHNT News 19, on Holmes Avenue, to check the manhole covers on the sidewalk.  Two of the three covers we found had Huntsville misspelled "Huntsivlle."
https://twitter.com/AwkwardHandle/status/684063963819147264/photo/1
WHNT News 19 reached out to a representative with the City of Huntsville to see if this is a known error or a surprise.
Shane Davis, Director of Urban Development, had this response:
"From the photo, this cover is a very old cover. Our standard manhole cover design has changed over the years. The current design (since 2003) has been the below image.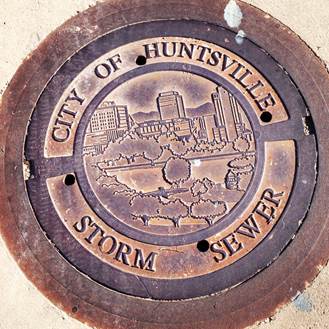 I am not sure who manufactured the misspelled manhole cover that was submitted. Based on the diameter, it appears to be a standard from 1970s. This the first manhole cover misspelling I have seen. I would not think this would be a large scale issue. East Jordan Iron Works produces most of the City's manhole covers. However, a private developer can purchase from several vendors. Any vendor of manhole products must conform to our design standards. This particular manhole may have been installed under this scenario and the spelling was missed during the inspection years ago. Public Works can issue a work order to change out the manhole cover."