This is an archived article and the information in the article may be outdated. Please look at the time stamp on the story to see when it was last updated.
HUNTSVILLE, Ala. – Fire officials say unattended cooking caused an overnight apartment fire. Emergency crews rushed a woman to the hospital. Fire officials have not released her identity or condition.
The two-alarm fire happened at the Warren House Apartments on Executive Drive. When Huntsville Fire and Rescue crews got to the scene, there was heavy smoke coming from the building.
Fire officials on the scene say a woman was trapped in a third story unit. She jumped from a window and was rushed to the hospital in serious condition.
Residents evacuated from 25 apartment units. The fire was contained to two apartments. There is smoke damage to other units.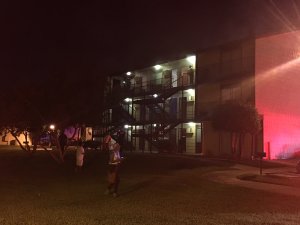 The fire started just before 1:45 a.m. on Wednesday, and it took crews about 30 minutes to extinguish.