This is an archived article and the information in the article may be outdated. Please look at the time stamp on the story to see when it was last updated.
HUNTSVILLE, Ala. (WHNT) - Huntsville Police say a woman is charged with manslaughter following a deadly hit-and-run Thursday on Mountain Gap Road near Springwood Drive.
Police got a call about a traffic wreck around 8 p.m.  Witnesses say a driver hit a pedestrian and drove off.  The man hit, Marty Reed, 45, died on the scene.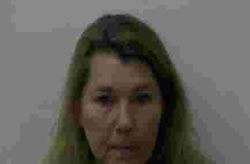 A witness got a tag number for the vehicle and gave it to police. Officers tracked the driver down quickly and found the suspect, Tammy Byrd Buchanan, 45, at the Citgo gas station at Green Cove Road and South Memorial Parkway.
Police say the accident may be alcohol-related, and toxicology tests are pending.  Police say Buchanan and the victim may have known each other.   Both lived in Owens Cross Roads.
Police say Buchanan is charged with manslaughter and leaving the scene of an accident.