This is an archived article and the information in the article may be outdated. Please look at the time stamp on the story to see when it was last updated.
HUNTSVILLE, Ala. - The Bessie K. Russell Library in north Huntsville is celebrating a big announcement. Tuesday, news came that the library will soon move to a much larger location.
The library will move in to the building that currently houses Huntsville's Public Safety Training Academy.  It's 22,000 square feet.  The library's current space is about 1,700 square feet, so the staff is quite pleased about the upgrade.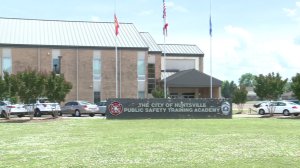 "This will have a huge impact on the community," said Michelda Johnson, Marketing Director for the Huntsville Madison County Public Library.
In addition to the traditional service of books, the library also provides computer training, literacy programs, meeting rooms, and more.
The City of Huntsville allocated $2 million for the renovation of the building.  The Library has launched a fundraising campaign to cover additional costs.  You can learn more at huntsvillelibraryfoundation.org.