This is an archived article and the information in the article may be outdated. Please look at the time stamp on the story to see when it was last updated.
HUNTSVILLE, Ala. (WHNT) – Many choose to make light of or belittle those who announce their New Year's resolutions. In this age of social media, after all, we often broadcast our well-intended determination inadvertently, welcoming eye-rolling fodder from friends and followers.
But this time of year, when it all boils down to it, is really about evaluating ourselves and deciding what steps we may take towards bettering ourselves in the new year; goals from the lofty to the sensible.
From losing weight, to cleaning up your language, to finding a job, to putting down that cigarette pack for good.
Any and all of these are big decisions requiring pointed resolve and commitment. The accountability and ramifications of resolutions are compounded when making those big decisions as a business owner.
Two more downtown Huntsville bars - Kaffeeklatsch @ Night and Voodoo Lounge - have made the decision to add their names to the list of those already choosing to become non-smoking establishments.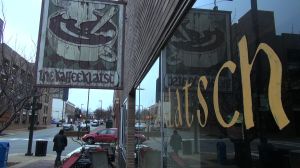 When word got out that longtime downtown Huntsville bar Kaffeeklatsch @ Night was going cold turkey, owner Carole Record told Lucy Berry with our news partners at Huntsville Times/al.com the term "nervous" didn't even begin to describe her mindset.
"I had several weeks of sleepless nights of worry and tears," she said. "I was hearing from good friends that it was all over. 'People come to bars to drink and smoke,' 'You're killing your business,' or 'I'm going to have to find another job.' "
Three years ago, Berry reports, Record was given the option to ban smoking or buy a $3,000 custom exhaust system. She chose the latter.
The bar side of the long-standing downtown Huntsville coffee shop and blues room went non-smoking the week of Thanksgiving after 29 smoke-tinged years.
So far, the response has been "smoother than expected," despite competition from nearby competitors that still allow indoor smoking, Record said.
"I think that's a national trend and that trend is catching up here in downtown Huntsville," explains Chad Emerson, CEO of Downtown Huntsville, Inc.
"I think you're more likely to find a smoker visit a non-smoking facility than a non-smoker visit a smoking facility," says Emerson.
But does such a business move disenfranchise the smoker, or open the door for even broader clientele?
"I think there are a lot of businesses who think they might be at a competitive disadvantage if they don't allow smoking and so they allow smoking even if they don't necessarily want to," said Emerson. "And so you're starting to see some of these businesses realize that it's no longer a competitive disadvantage to go non-smoking."
Voodoo Lounge is widely known as one of downtown Huntsville's smokiest establishments with its linear galley-style bar setup. But come midnight, the only thing wafting through the air at Voodoo hereafter will be live music - and water vapor.
On December 27th Voodoo posted the following message on its Facebook page:
The move to ease the transition to non-smoking for patrons by offering and encouraging the use of E-cigs seems to be a relatively genius decision for a business making a huge leap.
"I think you're starting to see a big debate about whether vapor smoking or e-cigarettes is smoking or not," says Emerson. "And I don't think that debate has been decided, different cities are approaching it different ways but it some sense, at the very least, seems to be a good interim measure because right now the stigma with 'vaping' is not nearly as strong as traditional smoking."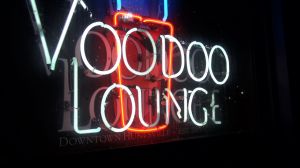 The business implications of new non-smoking bars and restaurants have yet to be quantified. But next time you stop in for a brew of choice at The Kaffeeklatsch or belly up for a drink at Voodoo Lounge, be sure to leave your smokes in the car. Of course for smokers, there's always the sidewalk or alley -- for now.
"Overall downtowns are complex places and they're places with a lot of diverse ideas," Emerson says. "In certain situations smoking may be the best business model for an establishment and that's for them to decide."
Earlier this year the House Health Committee failed to act on Alabama House Bill 258, which would have banned the use of e-cigarettes in any public place where smoking is prohibited. The bill is expected to be brought back in 2014.
Take our poll and give us your feedback about the changes.