This is an archived article and the information in the article may be outdated. Please look at the time stamp on the story to see when it was last updated.
HUNTSVILLE, Ala. – A new hotel is coming to Huntsville across from the Von Braun Center on Monroe Street. The Huntsville City Council approved a development agreement with a unanimous vote to bring in an Autograph Collection boutique hotel by Marriott. The Huntsville City Council took the vote after a lengthy discussion that included possibly postponing it to another time.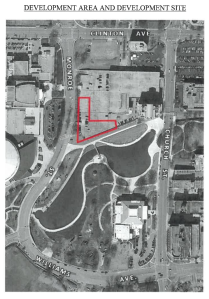 Marriott's website says this collection of hotels maintains a sense of place with thoughtful design and visionary detail.
The hotel, according to the agreement, will open "not later than December 31, 2021."
Right now a parking garage sits on the site across from the Propst Arena. The plan is for the City of Huntsville to demolish the "old portion" of that garage, which the development agreement says is nearing the end of its life span and already deemed ready for redevelopment. It will then build a new, larger Monroe Street Garage to align with the adjacent Church Street Garage. Overall, leaders said no parking spaces would be lost.
The hotel development boasts 187 rooms, a rooftop bar, banquet/conference space, and two full-service restaurants. It will be six stories and leaders said it would fit in with Huntsville's master plan.
"It's a good deal because we are not incentivizing it. We are selling property at appraised value, we'll take that cash from that sale and put it back into a public garage. It saves the taxpayer money on a garage we were going to take down and rebuild anyway. We've not had a deal like this in a long time. I think it really points to where our downtown is growing up to be in a market. Projects are starting to stand on their own a little bit," said Shane Davis, Huntsville's Director of Urban and Economic Development.
Officials said this is a quality-of-life improvement for the area, which is determined to be a site for renewal. The Von Braun Center is already in the middle of expansion and renovations, and the neighboring City Centre development is underway.
Parking structure demolition begins March 31, 2020, according to the development agreement. The older portion of the parking area will be removed, and a new parking facility will be constructed next to the site. The city agreed to work with the developer to do it all in a timely manner. The developers will lease 187 parking spaces from the city. Huntsville would demolish the existing portion of the garage, build the new garage, and provide utilities to the development site as part of the agreement.
The new hotel and parking structure will open at the same time.
Leaders said Thursday night that the hotel operator is already a part of the Huntsville community, operating other hotels in the area including the Huntsville Marriott at the US Space and Rocket Center. Leaders said this development group, Ascent Hospitality Group, has a proven track record of excellence with major hotel brands.
This would be a $30 million project for the developer.
Davis said this is a prestigious hotel that will bring more variety and price points for Huntsville visitors looking for accommodations.
"It's very similar to an AC Marriott. It's another flag you don't have a lot of in the U.S. Marriott takes very seriously handing out an Autograph," Davis explained. "It makes another statement about our community to the corporate citizens who may be looking at Huntsville," he said.
The city of Huntsville has set a goal of having 1000 hotel rooms available downtown, and has worked toward meeting that goal for three years. The city is well on its way there at long last. An AC Marriott hotel is going up at City Centre nearby already and is nearly finished. Leaders said it would open March 25. A Hampton Inn and Suites is coming in to the corner of Monroe and Clinton Avenue already. City leaders are set to announce an additional Marriott at City Centre. A full-service hotel, 106 Jefferson, is a Curio by Hilton coming into Jefferson Street.
"Look at the hotels we have opening in Huntsville. We have a wide range of price points and brands that serve everyone from families on the weekend, a soccer tournament, all the way up to an executive who wants a certain quality of hotel. We have a good mix that creates a good variety for everybody," Davis explained.
This project, with the additional hotels coming in, would set Huntsville up with about 900 hotel rooms downtown. But leaders said there's such high demand for rooms that Huntsville's downtown could support three more hotels and still have room for growth.
"You're probably looking more at 1500, 1600 [rooms] range downtown over the next five years for everybody to be able to function comfortably," he stated. "If you start to put the pieces together– 36,000 new jobs. Those jobs come with brand new corporations coming to our community which people who do business with them who are now flying in and flying out… The travel and investments we made in Parks and Rec, the tournaments they're getting, the conferences going on. When you add all that together, it is not surprising. I think you'll see more hotels throughout the metro area come up in the next 2 or 3 years," he said.
The next step will be for the city council to consider a purchase and sale agreement and design contract for the parking garage. The developer will start designs after that.