This is an archived article and the information in the article may be outdated. Please look at the time stamp on the story to see when it was last updated.
HUNTSVIILE, Ala. (WHNT) - Rogersville Police have identified the man accused of robbing banks in several cities, but their suspect is no surprise to some of his Huntsville neighbors.
The suspect is Cedrick Lamond Hicks of Madison County. Rogersville Police Chief Terry Holden said Hicks is the man accused of robbing Regions Bank on Lee Street on November 27.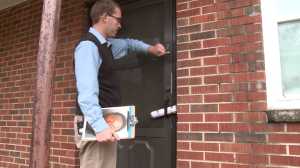 WHNT News 19 found an apartment believed to be where Hicks last lived in Mason Court. Neighbors identified Hicks and say they have not seen him since around the same time the first robbery was reported months ago.
Loraine True lives across the yard from the apartment Hicks allegedly called home with his family.
"They were a very quiet family and they kept to themselves," True said. "Everyone around here is just trying to make ends meet and pay their bills on time, it's sad he [Hicks] had to do something like this," the neighbor added.
Chief Holden told WHNT News 19 they have a warrant issued for Hicks' arrest for first-degree robbery. Chief Holden said his department is working with the FBI and several other local police departments to find Hicks.  He said a sheriff's office in Arkansas contacted him, believing Hicks may have also robbed a bank west of Memphis.
Holden said police believe Hicks is driving a dark blue 2004 four-door Kia with a Madison County license plate.  He said agencies are strongly looking for Hicks in southern Tennessee, north Alabama and near Tunica, Mississippi.
The same suspect is believed to be involved in bank robberies in Priceville, Guntersville, and Albertville as well as over the state line in Pulaski, Tennessee.
The person apparently tried to rob Traditions Bank in Cullman on November 26.  However, he was scared off when employees immediately went on alert when he walked in the bank.
If you have any information about Cedrick Hicks, please call the FBI at 1-800-CALL-FBI or Rogersville Police at (256) 247-5446, Ext. 202.