This is an archived article and the information in the article may be outdated. Please look at the time stamp on the story to see when it was last updated.
HUNTSVILLE, Ala. (WHNT) – The excitement for the New Horizons mission radiates out of its base in Maryland.  Tuesday should be the big day for New Horizons to send us the closest images of Pluto ever taken.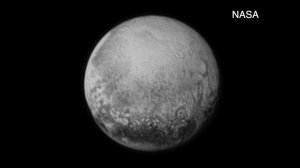 The spacecraft launched back in 2006 to begin its long journey to Pluto, and New Horizons Principal Investigator Alan Stern says along the way, "We've had about a total of a factor of 30 improvement, and now when you look at an image of Pluto, you see a real planet there. You see a complex world that just begs for exploration."
For an idea of how spectacular the final images of Pluto will be, Stern describes an image taken at similar resolution of Earth. "We've taken a satellite image of the earth, pixelated it to about our best resolution, and you can see Manhattan there between the Hudson River on the left and the East River on the right. You can easily pick out Central Park. You can pick out the ponds in Central Park. It's just fantastic," Stern said.
We'll get this same level of fantastic detail from Pluto, which is pretty impressive since they'll be taken from 8,000 miles above the surface, moving at 31,000 miles per hour.
The U.S. Space and Rocket Center will host 'Plutopalooza' to celebrate. The event will run Tuesday from 10 a.m. until 5 p.m.
It will feature hands-on activities, planetarium shows, and a virtual reality solar system tour.