This is an archived article and the information in the article may be outdated. Please look at the time stamp on the story to see when it was last updated.
HUNTSVILLE, Ala. - Tuesday, local branches of the NAACP met in five parts of Alabama, including Huntsville.  They voiced strong disapproval of Sen. Jeff Sessions's nomination as U.S. Attorney General.
"As far as I'm concerned, Mickey Mouse is better than he is," Deborah Barros-Smith said from the NAACP podium.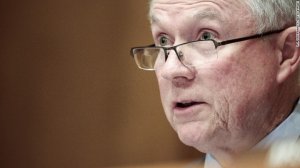 In Huntsville, the group spoke in front of the Regions Building, at 200 Clinton Avenue NW, where Sen. Sessions' Huntsville office is located. Other news conferences are being held in Mobile, Dothan, Birmingham and Montgomery.
As Attorney General, Sen. Sessions will be in the post of the nation's top prosecutor.   Sessions made his endorsement for President-Elect Donald Trump during a rally in Madison in late February of 2016, and was the first senator to do so.
Some NAACP leaders say Sessions can't be trusted to be the chief law enforcement officer for voting rights -- claiming he's been a threat to desegregation and the Voting Rights Act.
Rev. Charles Dale said at the Huntsville rally, "Senator Jeff Sessions has been known as a racist individual."
Speakers also lambasted sessions for his reluctance on the re-authorization of the Violence Against Women Act, which sessions said became politicized.
Barros-Smith told the media, "He's not my friend as a victim. He's not my friend as a woman. He's not my friend as a minority."
She added, "Don't you think we can come up with somebody that actually believes in civil rights. I mean, actually believes in it and is going to be there for the people. That's why he's not qualified. Because he's not for the people."
WHNT News 19 reached out to Senator Session's office for a response, but we have not heard back.