This is an archived article and the information in the article may be outdated. Please look at the time stamp on the story to see when it was last updated.
HUNTSVILLE, Ala. – Around 6:15 p.m. Wednesday evening, the WHNT News 19 newsroom was flooded with calls of at least one loud "boom."
Many people reported hearing two booms. It seems like the majority of the reports came from south Huntsville, but we had reports come in from Morgan and Marshall Counties.
The store owner of Goody's on south Parkway reported the boom shattered the window of his store.
Chris Colster, Redstone Arsenal Spokesman, told WHNT News 19 it was a planned destruction of old munitions that had reached the end of their life cycle. He said this was not an accident and it was handled by Redstone teams.
If you believe you have damage as a result of testing done at the Arsenal, click here to find out how to file a claim. We talked to the Arsenal about damage claims when an explosion knocked an antique plate from a wall in Oct. last year.
Check out this seismograph graphic of the boom from Steve Jones at alabamaquake.com:
In case you're wondering how sound waves from a blast can travel so far, take a look at this graphic: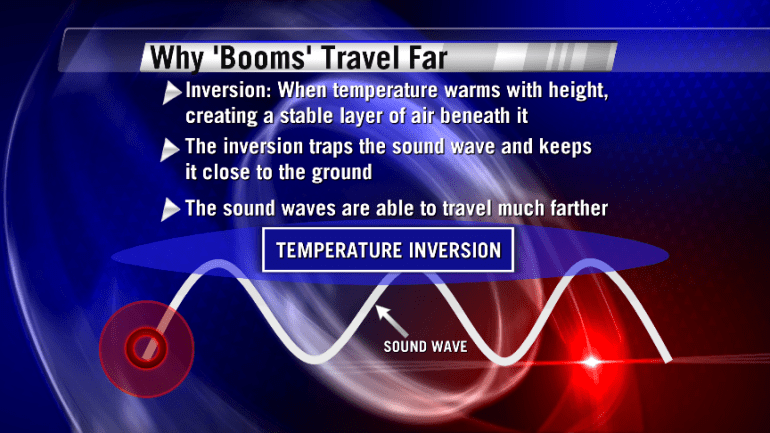 Redstone Arsenal released this statement Thursday:
Redstone Arsenal is a complicated place with many different agencies conducting different missions and it's sometimes difficult to understand requirements. The Garrison Public Affairs office asks all of our tenant organizations to keep us informed when they are conducting operations which might impact the local (or national) community. We then alert the community via email, media releases, social media, etc.

This did not happen last night prior to the boom and we could have handled it better. We began to analyze our policy and procedures last night after the blast and will continue to work towards a process in which this does not happen. We should have notified the community beforehand and did not which caused confusion and concern when the blast occurred.

About Claims:

The US Army only accepts and pays claims for damages that we have caused. There are also times when the ATF, FBI or Marshall Space Flight Center, USAF (and many others) create a blast which causes damage. When that happens, then those agencies pay claims.

Our Redstone JAG Claims office covers Anniston Army Depot and all US Army activities in northern Alabama. Historically, 3-4 blast claims against the US Army is normal for any given year, throughout this territory. Since October of 2014, the Army claims office has received 16 claims for damages which were caused by blasts. It is a fairly lengthy process to finalize a claim.

A claim for damages is a request for financial consideration and separate from our complaint section. We track community complaints to establish trends and create ways to mitigate damage.