This is an archived article and the information in the article may be outdated. Please look at the time stamp on the story to see when it was last updated.
MADISON COUNTY, Ala. (WHNT) - How could a mere piece of metal dramatically increase safety and visibility at an intersection? Well, that's exactly what an unassuming new feature at Patterson Lane and Pulaski Pike is accomplishing.  For people who live and travel often in this area of the county, the 'mirrored' lollipop-looking safety device may be old news. It's been installed for about three months without fanfare or a ribbon cutting or a press release -- personally though, I found the traffic reflector to be a rather ingenious addition.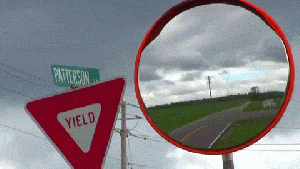 First things first; it's not actually a mirror. The reflector is a convex metal orb polished to a mirrored finish, so it's practical as well as durable. (You BB gun-toting county revelers -- don't even think about it.) Madison County District 4 Commissioner Phil Vandiver says Traffic Engineer Tim Swinford brought the idea to his attention after Commissioner Roger Jones experienced success with the concept in District 1. The two commissioners collaborated to approve the traffic reflector at Patterson and Pulaski, a slice of privately owned land on the border of both their county districts.
"We moved forward with it and it's been a good idea; it's really worked out well," Vandiver says.
How well? Before installation, drivers would almost have to break their necks checking for incoming northbound traffic from Pulaski Pike while perched at the Patterson Lane yield sign. Now, if speed limits are obeyed, folks rounding the sharp curve northbound on Patterson have about eight seconds of rearview visibility that before would have required driver contortions in the face on oncoming traffic.
It's certainly a low-tech option and an affordable one, to boot. Vandiver says the reflector cost the county less than $1,000 and essentially requires little to no maintenance.
"Pretty foolproof and low-tech and sometimes that's the best, simplest way to do it," says Vandiver.
Madison County Commissioner pride themselves on 'doing more with less,' and when they can enhance public safety in the process -- that's a pretty good deal all around.
A second traffic reflector is up and shining in Roger Jones' district at the intersection of Moores Mill and Shed Roads.