This is an archived article and the information in the article may be outdated. Please look at the time stamp on the story to see when it was last updated.
MONTGOMERY, Ala. (WHNT) - A Madison doctor is charged with stealing more than $7,000 from the Alabama Medicaid Agency.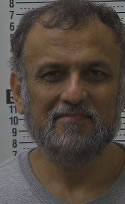 The doctor facing the charge is Iqbal Ahmed Memon, the father of Hammad Memon, the teen convicted in the 2010 shooting at Discovery Middle School.
These charges come through the Alabama Attorney General's Office.  Dr. Memon, 51, was arrested and his bond is set at $10,000.  Dr. Memon will be taken to Montgomery County to face these charges.
"What's interesting about this is there is 2 counts," said attorney Mark McDaniel. "Count one is theft, count two is theft by deception. It's the same amount of money but that indicates to me that there is some kind of fraud involved."
A Montgomery County grand jury indicted Memon on the charges in June.  He is charged with two counts of first-degree theft of property, a class B felony. If convicted, he could face two to 20 years in prison and a $60,000 fine for each count.
The Attorney General's Medicaid Fraud Control Unit investigated this matter.
In May of this year, Dr. Memon's son, Hammad Memon, pleaded guilty to the murder of classmate Todd Brown in 2010.  He was sentenced to 30 years in prison.
Dr. Iqbal Memon also faces charges of hindering prosecution from 2012. "When somebody comes under the microscope of the government if you will, certainly they start looking at other things," said McDaniel. "In this case, you had the Medicaid Integrity Division and they looked into irregular billings or whatever they were looking at."
McDaniel said that this is just another legal battle for the family. It only adds to the pile of court costs.  "He's got plenty (Iqbal)," he said.  "He won't have any problem bonding out of jail. He won't have any problem hiring a good lawyer, whatever it takes to do this thing, he won't have any problem doing that. But he's up against the Attorney General of the State of Alabama now and that's a different ballgame."