This is an archived article and the information in the article may be outdated. Please look at the time stamp on the story to see when it was last updated.
HUNTSVILLE, Ala. – Thursday's school board meeting became heated during negotiations about incoming superintendent Matt Akin's contract.
During one exchange, board members sternly addressed one another, at times speaking over one another. It was a notably contentious meeting.
WHNT News 19 has learned that Friday, the day after that meeting, Mayor Tommy Battle got involved.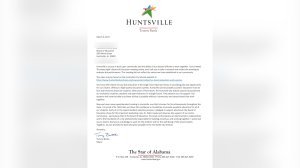 His office confirms that he sent two private letters to two individual school board members expressing concerns and asking them to work together. A spokeswoman told WHNT News 19 the mayor did not send letters to every board member.
WHNT News 19 since confirmed those board members who received letters are Michelle Watkins and Pam Hill.
In a copy we obtained, Battle urges the board members to get along, with a focus on the children, writing: "This meeting did not reflect the values we have established in our community."
Later, he comments, "Our students will never be able to achieve all that is possible without a community and school board that work together."
Pam Hill and Michelle Watkins were unavailable for comment Monday evening.