This is an archived article and the information in the article may be outdated. Please look at the time stamp on the story to see when it was last updated.
HUNTSVILLE, Ala. – A martial arts academy is moving to downtown Huntsville. Crunkleton Commercial Real Estate Group confirmed that Maverick Training Center will be moving to a new space on Washington Street in October of this year.
"Maverick Training Center is a family owned martial arts academy that specializes in Brazilian Jiu-Jitsu and Muay Thai," Suzanne Ramsden, owner and head instructor at Maverick, said in a news release.  The academy will have 2,800 square feet of training mats and the class schedule will accommodate downtown residents and professionals.
"The academy has expanded over the years. We currently have more than 100 active students. This move downtown will make us more central to our students, allow us to offer additional classes, and provide the room we need to grow," said Ramsden.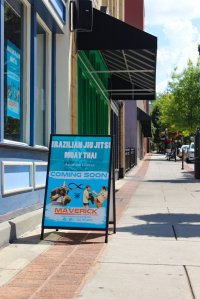 Ramsden says that she and her team were drawn to the downtown area because of its vibe, easy accessibility, and their desire to reach the downtown community.
"We've done everything we can to make sure our services fit the needs of downtown," said Suzanne. "People who work in the area can come see us for a 6 a.m. class, shower off at our center, and make it to work on time feeling confident, fit, and ready to take on the day."
Classes will remain in session as normal at Maverick's current location on South Memorial Parkway until the academy's opening downtown.
"I believe we bring something unique to the area," said Suzanne. "Maverick currently offers around 20 classes each week, but we will add more if needed. We live and breathe martial arts and we are committed to making this an incredible experience for everyone. We can't wait to welcome new faces to the academy and give our current students a wonderful new facility downtown."