This is an archived article and the information in the article may be outdated. Please look at the time stamp on the story to see when it was last updated.
Today, NASA honored members of the NASA family, including the crews of Apollo 1 and space shuttles Challenger and Columbia during the space agency's annual Day of Remembrance.
Various NASA centers will hold observances, including Marshall Space Flight Center in Huntsville which held a candle-lighting ceremony at 9 a.m. for employees, as well as a public event at the U.S. Space & Rocket Center which began at 10 a.m.
The ceremony at Marshall Space Flight Center brought an abundance of emotion to Astronaut Robert "Hoot" Gibson.
"I had known everybody that we lost on both Challenger and Columbia," Gibson said. "They are beautiful memories and, at the same time, we do have to remember the errors we made and the mistakes that we made."
While he spoke to Marshall Space Flight Center's workers, the courageous smiles of those aboard the three deadly manned NASA missions shined behind him.
"I knew Challenger better because four of them were in my astronaut class in 1978," Gibson said. "I had flown with Ron McNair who was on Challenger. He and I flew Challenger in 1984 on my first mission as well."
The Marshall Space Flight Center and the US Space & Rocket Center gave people from around the world a chance to honor the fallen heroes whom gave their lives in the quest of space exploration.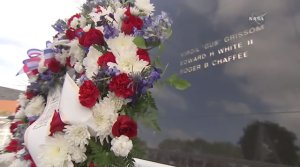 NASA Acting Administrator Robert Lightfoot, along with other agency senior officials will hold an observance and wreath-laying at Arlington National Cemetery in Virginia at 10 a.m. central time.
Other NASA space centers held events last week, including Kennedy Space Center in Florida, Johnson Space Center in Houston and Michoud Assembly Facility in New Orleans.