This is an archived article and the information in the article may be outdated. Please look at the time stamp on the story to see when it was last updated.
HUNTSVILLE, Ala. - With each step Milton Anthony takes, "I am so excited. I can hardly sit still," said Anthony.
Anthony is the first in Alabama to get the Endolite Linx system, which is the newest prosthesis with hydraulics in the knee and ankle that communicate with each other through Bluetooth.  The system makes something as simple as climbing stairs more natural.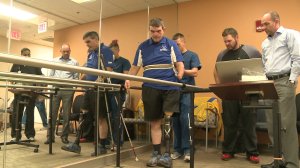 "I've never walked with a leg that had a working ankle," said Anthony.
In 1982, a bomb that was meant to kill left Anthony without his left leg, lower arm, fingers, sight or smell. "I don't remember any of it. I stayed unconscious for three and a half weeks," said Anthony.
He says it was a miracle he even survived and didn't suffer brain damage.  But, the physical changes were drastic. "They said there is nothing they can do for you. They said you're beyond rehabilitation," said Anthony. "I didn't want to live. But, I was so disabled that I couldn't kill myself."
He was reminded of words his father told him, that as long as he was breathing, he could change his situation for the better. "When I got blown up, I was 24 years old. A high school dropout and basically a little more than a drug-dependent, anti-social criminal," said Anthony.
He realized his life could be an example. So, he earned a master's degree and got certified as a counselor; helping those who are where he used to be. "Everything happens for a reason. And no matter what goes on in our life, our creator has given us tools in which we can use to deal with those circumstance," said Anthony.
And this time, he's not going to waste them. So, he's taking it one step at a time to make a difference in the lives of everyone he meets with a new leg that will allow him to get there.
"I'm sorrowful in a way, that it took being blown to smithereens before I realized, 'Hey I can make a difference in people's lives.' But at the same time, if I had not gotten blown up and put in this shape, I don't think I would have the impact on people, especially disabled people, that I do," said Anthony.
The prosthesis was done through a partnership between the Tennessee Valley Amputee Support Group and The Orthopaedic Center.