This is an archived article and the information in the article may be outdated. Please look at the time stamp on the story to see when it was last updated.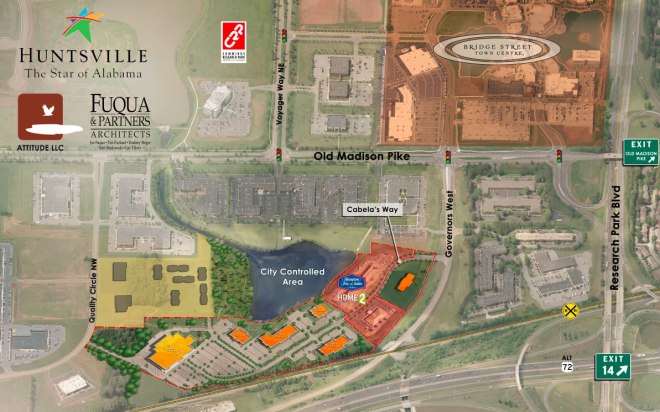 HUNTSVILLE, Ala. (WHNT) – Cabela's Incorporated announced plans to open its first Alabama store.  Cabela's is a retailer focusing on hunting, fishing and outdoor gear.
Wednesday afternoon, city leaders described the store as "new," "major" and "a catalyst for things to come."  It's the company's first store in Alabama, and it will be located in the new Parkside Town Centre development to be built near Bridge Street Town Centre.
Specifically, Parkside is just off Governors West, south of Old Madison Pike near Interstate 565 and Research Park Boulevard.
Shane Davis, Huntsville's Director of Urban Development, says this is a great location.
"Once complete, Parkside Town Centre will have 300,000 square feet of additional retail to complement Bridge Street," said Davis.  "As you're aware, our Research Park is the second largest in the U.S., fourth largest in the world, so it is key that we keep that vibrant."
Cabela's will be 80,000 square feet and is expected to employ 180 people.  The store will also include an indoor archery range and archery tech room, gun library, deli and fudge shop.
For Huntsville, it's another valuable source of revenue.
"Fifty-three percent of our dollars as revenue come into the City of Huntsville through sales tax and by adding these retailers to our portfolio, we end up with a larger sales tax and that larger sales tax means we can do infrastructure," said Mayor Tommy Battle.
Site prep work should begin in the next 60 to 90 days.  Cabela's plans to start construction right after that.  The goal is the open the store by the fall of 2015.
Cabela's also announced plans to open stores in Oklahoma City, Okla. and Woodbury, N.Y.