This is an archived article and the information in the article may be outdated. Please look at the time stamp on the story to see when it was last updated.
HUNTSVILLE, Ala. – A Mae Jemison High School student is recovering after a security guard allegedly body slammed him on May 21. A family friend says that student, 15-year-old Steven Franklin was involved in a fight with another student when the security guard intervened.
The officer worked for a company the school contracted to provide extra security. Huntsville City Schools confirmed that officer no longer works at the school.
Franklin's family now has an attorney. They plan to sue the contracting company EPSCO and the security officer that allegedly body slammed the teen last week.
A family friend said Franklin's injuries were so severe after that altercation with the campus security officer it led to him being treated in the ICU at Huntsville Hospital.
Steven Franklin's attorney Leila Watson said he is very tired and his head hurts.
Watson said his recovery process is going well, but he still has a long way to go. "The skull fracture pushed on either a vein or artery and cut it, so it started to leak blood the brain. When doctors discovered that the doctors had to go in and open up the skull," Leila Watson explained.
Leila Watson of Cory Watson Attorneys is representing Franklin and his family.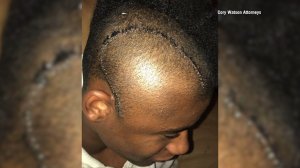 Watson said Franklin is out of the hospital recovering from his injuries, but still has side effects. "He developed pretty severe headaches which is a sign perhaps something is changing and they went back to Huntsville Hospital and they took care of him. He didn`t have to be readmitted," Watson said.
Watson`s team has been in contact with Huntsville City Schools and local law enforcement. "Local law enforcement is not able to tell us much of anything because their investigation is ongoing. It`s my understanding there were two video cameras mounted outside of the school building that were directed where all this happened," Watson said.
She said they are working together to determine what training and what procedures ESPCO has in place for security officers.
ESPCO was contracted by Huntsville City Schools to bring in extra staff, like security officers.
"We have gotten some information and I`m expecting I am going to file a lawsuit early next week on Steven`s behalf against the staffing company and the security guard," Watson explained.
Watson said during this time, the family has asked for their privacy.
She said the family is seeking compensation for his injury, but right now their main concern is getting him back to being healthy.
As of now, she doesn`t plan to file a lawsuit against Huntsville City Schools.
ESPCO's attorney said because it's an ongoing investigation they couldn't comment.