This is an archived article and the information in the article may be outdated. Please look at the time stamp on the story to see when it was last updated.
HUNTSVILLE, Ala. – Friday, a federal judge found Madison Police Chief Larry Muncey guilty of criminal contempt charges.  U.S. District Judge Madeline Hughes Haikala ordered Muncey to pay a $2,500 fine and attend training.
The training should be for legal exposure and liability, the judge said.  Muncey will not face additional witness tampering charges.
Chief Muncey left the courthouse quickly with his wife, Freda, and Major Jim Cooke who is currently overseeing the department.
After the hearing, Mayor Troy Trulock said he has placed Muncey on administrative leave, pending the conclusion of any appeal.
Muncey smiling, shaking hands in courtroom after hearing. @whnt

— David Kumbroch (@kumbroch) April 15, 2016
Judge also orders Muncey to undergo addtl training re: court interactions. Says he's to pay for that himself. @whnt

— David Kumbroch (@kumbroch) April 15, 2016
Also says not worth pursuing witness tampering charge. @whnt

— Brian Lawson (@BrianLawson15) April 15, 2016
Chief Muncey's charges and punishment relate to the first trial of Officer Eric Parker.  Muncey's attorney asked the court not to sentence his client to prison time.  Jerry Barclay said the proceedings have caused Chief Muncey great harm and hoped the punishment will be limited to fines.
Judge Haikala said the government proved its case beyond a reasonable doubt.  The case was identified as a federal misdemeanor and no sentence was issued, but the maximum penalty is six months in jail with a $5,000 fine.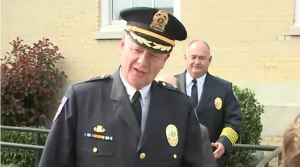 The judge said Chief Muncey's email to officers who appeared in Parker's trial shows he knew he wasn't supposed to discuss testimony.  The judge said Muncey's contempt case is a "willful violation."  She said Muncey should have trusted the process and not injected himself into the process.
Chief Muncey wore his dress blues for the hearing.  Madison Mayor Troy Trulock was also present, as well as other police including Major Jim Cooke and Capt. John Stringer.
Judge says Muncey in contempt of court. Says govt proved case in Tues hearing. Still explaining ruling. @whnt

— Brian Lawson (@BrianLawson15) April 15, 2016
Madison Mayor Troy Trulock present at Chief Muncey criminal contempt hearing. Saw police comms officer outside the courtroom. @whnt

— David Kumbroch (@kumbroch) April 15, 2016
Chief Muncey testified in a hearing earlier this week.  In her ruling Friday, Judge  Haikala said her order during Parker's trial was simple — Chief Muncey was excluded from the courtroom.  Witnesses are excused from the courtroom so they do not taint testimony.
However, Muncey followed the case on the WHNT News 19 blog of the first Parker trial, according to court testimony.  Muncey then sent an email to some officers regarding their testimony and assigned a police sergeant to monitor the case after Muncey was excused.
Muncey's attorney, Jerry Barclay, argued his client's contact with other witnesses didn't focus on the facts of the Parker case, but issues like training of officers and how the officers were presenting themselves in court.
Capt. Terrell Cook was acquitted earlier this week of a criminal contempt charge.
On Wednesday, Muncey took a voluntary leave of absence as Madison's police chief.  Major Jim Cooke is overseeing the department.