This is an archived article and the information in the article may be outdated. Please look at the time stamp on the story to see when it was last updated.
BIRMINGHAM, Ala. – A Madison police officer accused of depriving a man of his civil rights had a pre-trial hearing in federal court in Birmingham on Tuesday.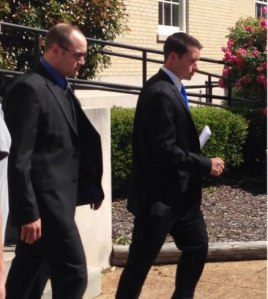 Dash cam video shows Eric Parker slamming 57-year-old Sureshbhai Patel face-first into the ground.  The officers were responding to a call about a suspicious man walking in the neighborhood on February 6, 2015.
Paramedics rushed Patel to the hospital for treatment where a metal plate was put into his neck.  Patel remains partially paralyzed to this day.
Parker's trial is scheduled to begin at 9:00 a.m. on September 1, 2015 at the federal courthouse in Huntsville.
In the hearing in Birmingham Tuesday, our news partners Al.com learned Parker plans to take the stand in his trial.
His field trainers, supervisors and other fellow officers will also testify.
Some will be called by the defense, and others will be called by the U.S. Department of Justice.
Hank Sherrod is representing Patel in the civil lawsuit against Officer Parker.  That's separate from the federal case, but Sherrod said the federal trial will give him a unique glimpse into how prosecutors will present their case, and how Parker's lawyer will defend him.
"I'm looking at this from a different perspective. For me, it's a preview of what the trial against Eric Parker is going to be in the civil case. The criminal case, they have to prove beyond a reasonable doubt.  We don't," said Sherrod.
Up in the air in addition to Parker's guilt or innocence is whether a judge will allow the entirety of the dashcam video to play out as evidence in court.  Sherrod says the video includes several things.
"From my perspective, self-serving, cover-his-butt comments and the video tape after the incident," said Sherrod.
Sherrod says what he knows for sure is Mr. Patel and his family are certainly anticipating justice in this case, despite a widely held perception.
"How hard it is to get a criminal conviction against a police officer. Thankfully there's video and at least I think most folks who see it don't have much question about the wrongfulness of what happened," he said.
Madison Police Chief Larry Muncey has recommended to city leaders that Parker be terminated. Right now, the officer is still on administrative leave.