This is an archived article and the information in the article may be outdated. Please look at the time stamp on the story to see when it was last updated.
MADISON, Ala. (WHNT) – On January 31, Sureshbhai Patel arrived in the U.S. from his home state of Gujarat, India, for an extended visit with his son, Chirag, and daughter-in-law.
Chirag's 17-month old son, Ayaan, was born prematurely and had been experiencing some developmental delays. Chirag, who worked full-time and was studying for his master's degree in electrical engineering, had given up his classes to help his wife with the baby.
To help support his son, Sureshbhai Patel took time away from his farm in India to lend a hand.
Read our news partners at The Huntsville Times and AL.com's story by clicking here.
It wasn't the elder Patel's first visit to the United States. The 57-year-old, who the family says was granted permanent resident status following his son's 2012 citizenship, had also visited after Ayaan was born. However, it was Sureshbhai's first visit to the family's new home in a Madison subdivision off County Line Road.
Six days after his arrival, he was just getting settled in.  His son and daughter-in-law had prepared a spare bedroom for him and installed a flat screen television.
On February 6, Chirag Patel left for work at 7 a.m. A short time later, his father went out for a walk. He would not return.
At 9:42 a.m., Chirag received a message from an employee at Madison Hospital asking him to call the emergency room. He hurried to the hospital and found his father seriously injured.
Chirag says his father explained he was walking down the sidewalk on the family's street when three Madison police officers approached and began questioning him. Sureshbhai, who speaks only a few English words, reportedly said "No English. Indian. Walking." He claims he gave his son's house number, pointing in the direction of the family's home.
That's when the Patel's say one of the officers grabbed Sureshbhai's arm, wrenched it behind his back and forced him to the ground. His face hit the ground. His neck was injured and he reported having no feeling in his arms or legs. He was rushed to Madison Hospital, then transferred to Huntsville Hospital.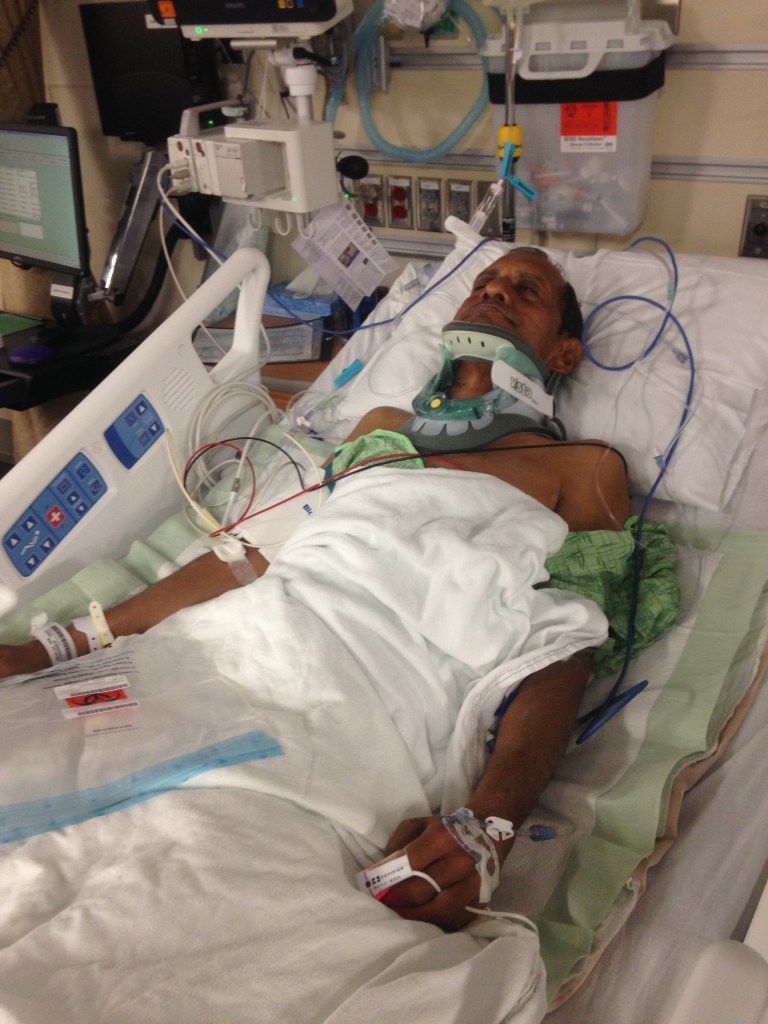 His family says he underwent cervical fusion surgery the next day and has since regained some feeling in his arms and one leg, although he is still partially paralyzed. They say doctors expect recovery to take months.
As WHNT News 19 previously reported, Madison Police say officers did try to question Sureshbhai Patel while investigating a suspicious person call in the neighborhood. According to the caller, a strange man had been walking into driveways and looking in garages.
Investigators say, while police were trying to speak with Sureshbhai Patel, he put his hands in his pockets. When they tried to pat him down, he pulled away. That's when police say the officer forced him to the ground and he was injured.
The officer is currently on administrative leave and police have promised a full investigation.
WHNT News 19 has requested any audio or video recordings of the incident, along with a copy of the original call. We'll continue to follow this story and bring you the latest developments.