This is an archived article and the information in the article may be outdated. Please look at the time stamp on the story to see when it was last updated.
MADISON, Ala. (WHNT) - 5-year-old Calista Dixon who was from Alabama and whose father Elijah Dixon lived in Athens before moving to Madison, was killed Monday night when a storm with rare dual tornadoes struck her mobile home on Main Street in Pilger, Nebraska.
42-year-old Kandi Murphree moved her three children to Pilger about four months ago from Huntsville.
Our news partners in Nebraska, KMTV, report Kandi's son, Cody was at work when he heard news the tornado touched down in Stanton and was headed toward Pilger.
Cody called his mom from work and told her to leave their mobile home and seek shelter right away.  "From what I hear they were trying to make it to across the street to either the bank or the gas station, but by that time it was just too late and everything hit."
Dad Elijah Dixon had spoken to his girls late last week but spent his Father's Day weekend busy at his bar tending job at an Applebee's restaurant in Madison.
He says he didn't expect to hear from his daughter again until early this week - instead he says he got the worst text of his life. The text was from his ex-wife's son Cody Murphree.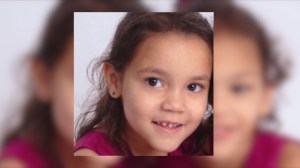 "And it was about Cali and so I jumped on the phone you know, 'what's wrong did she fall down, what happened?' and he says, 'well I don't know how to tell you this and I said 'please no' and he said 'sorry' - and I dropped my phone, fell to the floor - you never ever think you're not going to se your child again."
Dixon says he and his family are in the process of gathering necessary documents to make arrangements for Cali - as everything the Nebraska family owned was destroyed.
"Usually when you lose a birth certificate you go get one so you can sign your kid up for basketball and I'm doing this so I can bury my daughter," Dixon choked.
His youngest daughter, 4-year-old Robin, was unharmed in Monday's tornado. But with her mom in a medically induced coma in a Nebraska hospital, Dixon now worries about Robin's emotional state. He says he knows Robin needs her mother.
"How do I tell my other daughter that she's not going to see her sister?"
Dixon says from his conversations with Kandi Murphree's mother and adult son, it sounds like Robin's mother remains in about the same condition as doctors try to limit damage from her brain injuries.
"That trumps everything else and so now they are tending to her broken leg and everything else and I guess that's a positive," Dixon hopes, "Because I don't know if I could -- I don't know if I could tell Robin that both of them are gone."
Dixon says he expects to be in Nebraska by Thursday to be with his daughter Robin and begin making final arrangements for little Cali.
Coworkers of Cody Murphree, who worked at Heritage Homes in Wayne, established a fund to help temporarily feed and clothe Cody and Robin, who lost their belongings in the storm. Donations can be made to First Nebraska Bank, PO Box 10, Wayne, NE 68787.
With Cali's mom still hospitalized, Elijah has temporarily postponed decisions about the child's funeral. Her body is at a Nebraska funeral home pending arrangements. Elijah's mother Sheryl Scales says she would like a service to be held in Madison, where Cali and Robin often attended her church, Mt. Zion Cumberland Presbyterian.
The deadly twister devastated three-quarters of Pilger, killing Calista and 74-year-old David A. Herout of Nebraska, according to the Associated Press. At least 19 others were taken to hospitals with injuries.